A Tip From Me To You
My kids used to take multivitamins every day. They resembled cartoon characters from the '60s and while my daughter could take one, I had to bite my son West's in half. This was hardly efficient (nor was it sanitary), but hey- that's motherhood.
Then another mother told me about Pure Kidz, a line of natural healthcare products for kids. I had no idea all this time I was focused on health and wellness for me that I could be giving my children multivitamins that in fact weren't all that healthy for them! I mean, who thinks of a multivitamin as being unhealthy? I of course was skeptical so I checked out their website for myself and BAM! Right on the description page for Pure Kidz Multi Vitamin was a direct comparison to the brand I was using. Turns out Pure Kidz Multi Vitamin had 18 essential vitamins and minerals, was sugar, nut, egg, gluten, dairy AND soy free, and had no artificial colors… all claims the brand I was using could not make. 🙁 Plus it came in liquid form, meaning it entered the bloodstream faster and more efficiently.
"Well damn, worth a shot!" I thought.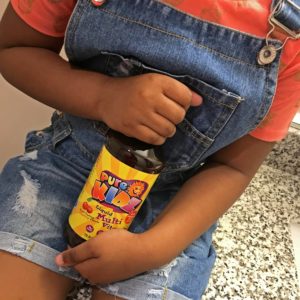 I fell in love with the multivitamin and it made me look into the other products they carried, like Pure Kidz Vitamin D Spray. Another hit! Super important for my kids- Black people have lower amounts of vitamin D than other ethnicities so I'll take it (and my kids will take it) anywhere we can get it! Plus again, it was in spray form so the absorption rate was high. I also loved Pure Kidz Immune Spray because: 1) elderberry was a key ingredient and 2) colds trigger my kids' asthma symptoms, so any product helping me to avoid a sick visit copay or emergency room visit… give it to me. Now.
I think what I loved the most about all these was not having to drag children (literally) into the bathroom and prop and wrestle them on the sink to take medicine. Something about the liquid and spray form… they don't mind taking Pure Kidz, so I can save the wrestling for their allergy and asthma medication.:)
Love, love, love Pure Kids. Highly recommended.