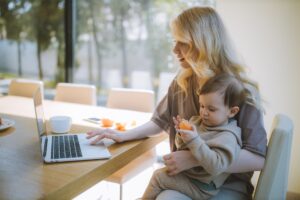 August marks the start of breastfeeding awareness month. Several working mothers stopped breastfeeding earlier than recommended by the CDC.  Moreover, one of the reasons suggests, that mothers may not be getting the support they need from employers. So, below is a list of resources and products to help new moms returning to the office.
Co-working Spaces
The Riveter:  Founded by Amy Nelson in 2016
This is a national membership network offering co-working spaces for women to work. These spaces exist in Texas, Colorado, California, Minnesota, Oregon, and Washington.  More importantly, member's benefits include mother's rooms and mail service.
Sometimes co-working spaces don't include the most important support for working moms; that is on-site childcare. SeVeda Kent's coworking space in Georgia has just that. They also have career development, business networking and community, and private coworking areas.
The Cube: Founded by 2 Maryland moms.
The Cube is Maryland's first coworking space with on-site childcare. Interestingly, the Cube provides business and lifestyle resources as well, including monthly manicures.
Resources
A national initiative from The Mom Project.  Designed to connect women with leading employers and maximize female workforce participation. Their mission includes providing women with an opportunity to re-skill and re-enter the workforce. It is equally important to place them into roles with companies that understand and support working moms.
A comprehensive guide to help stay-at-home moms re-enter the workforce. Basically, designed to help moms understand the challenges and realities of returning to work. They also learn from the experience of other moms. In addition, they also help to tackle resumes, cover letters, interviewing, and networking and figure out how to address work gaps and gain experience.
Ovia Health believes the workplace is not supporting women the way it should be. Undeniably, women have to make impossible choices between family, health, and career. To solve this problem, Ovia Health provides evidence-based coaching for reproductive health with the help of a team of registered professionals.
Products
Founded in 2014, the Willow Wearable Breast Pump provides solutions for both mom consumers and companies.  More importantly, Willow at Work is an employee perk program where companies can cover part of the cost for their employees. In addition, Willow at Work is an employee perk program where companies can cover all or part of the cost of the Willow Pump for their employees.
Freestanding lactation pods for workplaces help employers support their breastfeeding employees. In addition, they also comply with workplace lactation laws.  Mamava has teamed up with Medela to offer a single-source solution for both new and expecting parents.
Lactation Lab- Founded by a UCLA physician
Empowered moms have healthier babies. Lactation Lab analyzes breast milk- a mother collects milk, sends it to their lab, and then receives a personalized report with nutritional advice to optimize her child's nutrition.
The first-ever breastmilk shipping company, founded in 2015 by Kate Torgersen. The company offers three distinct services, which include domestic and international shipping.
Read more on coworking spaces, resources, and products for new moms returning to the office.