He'd taken Mommy's coffee cup from the table,
Added salt to it, and started his fable.
"Mommy I wanted to give you something too!
I added special sugar to your morning brew!"
Mommy was not amused- her temper started to grow.
After all, she was no good without her morning joe.
***NOW RANKED AS ONE OF THE "TOP GIFTS THAT WORKING MOMS CALL LIFE-SAVERS," AN "EMPOWERING BOOK" AND A "LIFE CHANGING BOOK TO GUIDE FEMINIST PARENTING!"***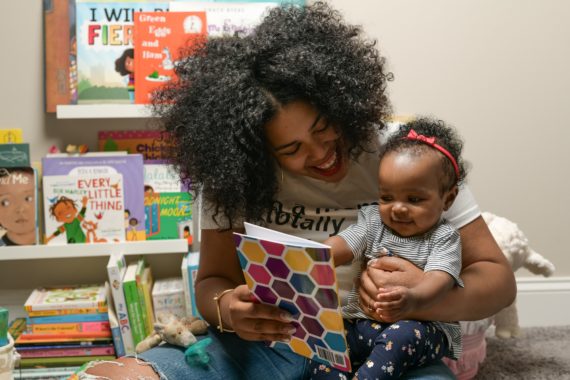 Finally… A Children's Book For Working Moms.
Can Mommy Go To Work? is the best-selling children's book from writer Christine Michel Carter. A marketing professional and mother to two children, Carter wanted to write a book for other mothers who struggled with work life balance and felt guilty for wanting to further their career. The book features elephants not only because they're intelligent animals known for caring for their young, but also so families from all races can relate to the story.
Can Mommy Go To Work? is called a children's book for working moms because Mommy is the main character, not her children. Through the book child readers will see "the other side of the story"- why their moms work so hard and the sacrifices their moms must make. Parents reading the book will feel understood, loved, and appreciated, and will most likely see themselves and their career path in Mommy. Even grandparents will appreciate the nod in Can Mommy Go To Work? to elder family members who help working parents with child care.
---
View Christine's novel MOM AF and read the first two chapters online for free.
---
As the author of Big Hair, Don't Care Crystal Swain-Bates says, there is power in reading about someone like you, and many moms wish they had books and experiences that matched their lives when they were growing up. Can Mommy Go To Work? gives the children of working mothers that book and that experience. It is a quick, easy to read children's book that the whole family can enjoy in the car on the way to school or at night before bedtime.
For moms that use cloth diapers.
For moms that let the TV babysit for a while.
For moms that breastfeed, and
for moms that don't want to return to the office.
This book is not only for your child, but for you as well.
Never feel guilty for doing what's best for you.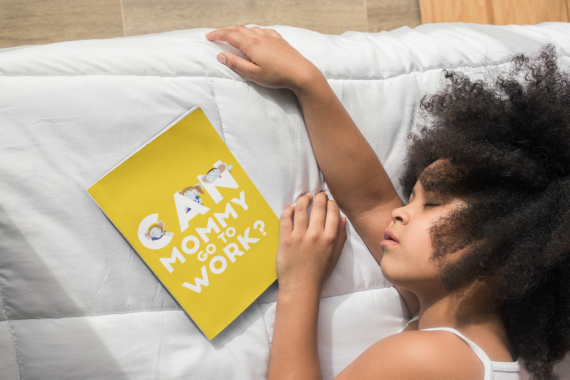 Why a children's book for working mothers?
On average, since 2019 one copy of Can Mommy Go To Work? has been sold every three days!
42 percent of women worry motherhood will negatively impact their career trajectory or leave them unable to advance as quickly as peers. More than 70 percent of working mothers and fathers say women are penalized professionally for starting families, and men aren't. Almost three-quarters of moms — and more than 70 percent of women without children — say mothers are offered fewer opportunities to move up the ladder than childless women.
Women are more likely to work their careers around children and make changes like taking leave, finding a more flexible job or working from home, a study last year found. Women take 10 times as much time away from work as men. 82 percent of working moms cite barriers keeping them from leadership roles, and 78 percent say they have to prove themselves more in the workplace.
More than 40 percent of U.S. employees say working moms are less devoted to their work, and 38 percent judge moms for seeking more flexible schedules. As it affects their hiring and promotion, motherhood costs women $16,000 per year in lost wages, one recent analysis found. Mothers are paid 71 cents for every dollar a man makes, per CNBC.
Almost 85 percent of U.S. employees believe having working mothers in leadership roles benefits a business, according to a Bright Horizons study of more than 2,000 workers. The same percentage said motherhood helps women prepare for challenges she'll face as a business leader.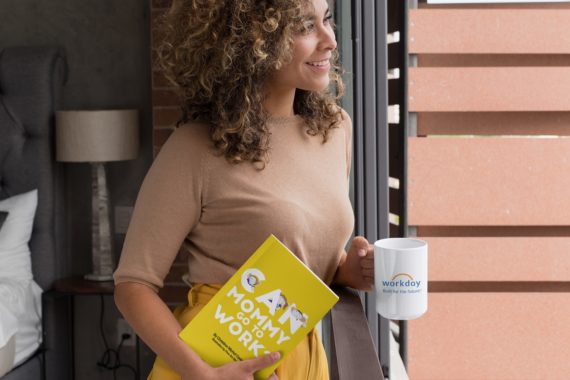 Can I order bulk copies for my organization?
Can Mommy Go To Work? is a quick read and a fun way for parents and women in employee resource groups (ERGs) to discuss working with their children. Companies have ordered the book in bulk as a giveaway for their employees. Request a bulk order by sending an email.
Featured in The New York Times, Christine Michel Carter is the #1 global voice for working moms. Called "the mom of mom influencers," "the exec inspiring millennial moms", a "mom on the move" and "the voice of millennial moms", Christine clarifies misconceptions about these consumers for brands and serves as an amplifier of their personal truths. This includes everything from delivering consumer insights and brand marketing content to helping HR and diversity teams attract and retain these hardworking professionals. She is the best-selling author of "Can Mommy Go To Work" and contributor to several global digital publications, including Forbes, TIME, Harper's BAZAAR and Parents. She has supported the awareness of government initiatives such as Senator Kamala Harris' Maternal Care Access and Reducing Emergencies (CARE) Act and Black Maternal Health Week and created Mompreneur and Me, the first national mommy and me professional development networking event.