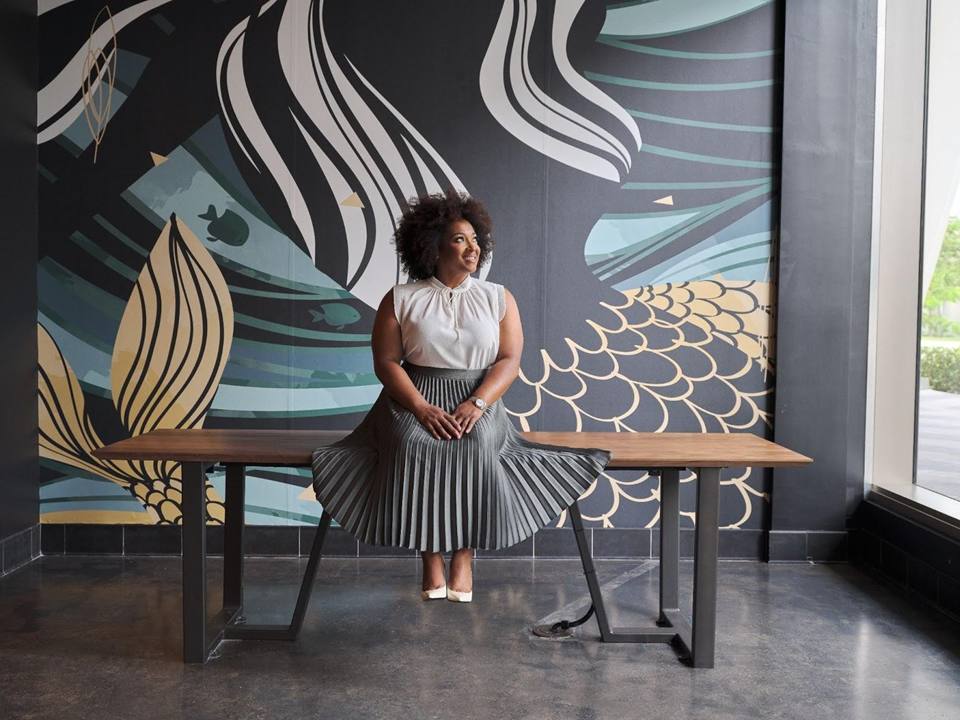 Ramona Hall at Starbucks MiamiCentral in Downtown Miami, owned and operated by Hall's food and beverage licensing company, Phillips Concessions
Portrait of a Momtrepreneur
I began pursuing entrepreneurship in 2000 when my son was in the first grade. I was a single mother and had been told by multiple people that I had too many factors working against me to succeed on my own. At the time, being Black, female, a single mom, and having limited local influence (my mother was in the military, so we moved around a lot growing up), some people saw these as flaws or barriers I wouldn't be able to break; I, on the other hand, saw it as a motivator, and an opportunity to shatter glass ceilings and open doors for people like me.  
I plunged myself into networking, listening, observing, and getting as much hands-on experience as I can, and despite the occasional moments of anxiety, self-doubt, and intense pressure, I paved the way for me to launch my company, Phillips Concessions, and open some of the most in-demand establishments including Starbucks, Chick-Fil-A and Einstein Bros. Bagels in Downtown Miami and at Miami International Airport. 
Today, I use my company to empower the people who live in the neighborhoods my businesses reside in by providing employment opportunities and tools to the community that give them the building blocks to be financially stable. 
If you're just getting started as a "momtrepreneur," or looking for some motivation, here are a few tips on balancing it all and pursuing your dreams: 
Realize that being a mom is a superpower.
I've always told myself motherhood is a super power that I was gifted and had to treasure at all costs. Being a mother, and growing up with a parent in the military became relatable attributes that allowed me to forge relationships beyond my social-economic status, and along with that, times were changing in my favor – I was someone who had influence and I was capable of making a positive impact in the community. Being a mom also gives me more compassion, particularly with the young people that I work with, and better understanding their challenges.
Trust the process.
Trusting the entrepreneur process is sometimes slow and inconsistent. And for the new momtrepreneur, it can be nerve wracking. When I was first starting my company, the process was complex and uncertain sometimes, giving me anxiety on occasion. For example, not knowing when your next check is going to come, hustling for a client, my son would ask me on Fridays if I had gotten paid so we can get ice cream. He was small and didn't understand the concept of entrepreneurship, but he knew enough to understand that there was a different energy in the house when mommy received a check from a client. As a parent, you always struggle to keep a balance between the real world and what you bring home; I'd be lying if I said that hearing my son ask me about my check on Fridays didn't break my heart, but you have to always bet on yourself, develop a glass half full philosophy, branch out and build relationships to pave your way to success. 
Set benchmarks for yourself.
For me, on the backend, I set benchmarks on the time I need to spend with my family. Don't see business expenses as an expense, see it as an investment for your business. Keep the frugal mentality in check. 
 A Momtrepreneur Doesn't settle.
Get uncomfortable. Bet on yourself. 
Educate your kids and get them involved if they're interested.
My son is an adult now, so he lived through my lobbying years. However, I have a pre-teen little lady as a CEO. Presently, I include my daughter in my business. She knows her mom is a momtrepreneur and she takes ownership too. We bond around business and she gives me sage advice. It blows me away. Her feedback is so important to me, from what not to post to how to work around an issue that I may have encountered at work. She's a mini CEO in the making.