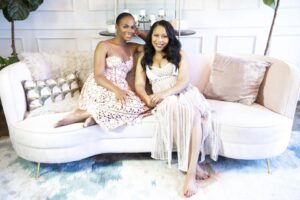 Sugaberry, a lifestyle brand created by and for modern moms of color, includes a curated mix of editorial content, original audio, and video programming, interviews, newsletters, celebrity guest contributors, a live event series, and product recommendations. 
Actress and producer Tika Sumpter and business executive Thai Randolph are looking to replicate the Netflix strategy. They want to personalize content for Black mothers with their new venture. 
"Black moms are among the most connected, culturally influential, and upwardly mobile audiences in today's digital media ecosystem yet, despite wielding considerable purchasing power, they remain largely underserved and underrepresented in the marketplace," Randolph states.  
In recent years… 
Content marketing has transitioned from customization to the personalization model. For example, Netflix's original programming strategy was to provide viewers with a plethora of content. Which means they could choose what they wanted to view. 
 Today, Netflix is responding to the demands of consumers, producing content to match their lifestyles and need states. The former is led by the content creator, while the consumer drives the latter. 
Moreover, included in Netflix's new strategy is the creation of multicultural content to match their consumer's needs. Nielsen reported in 2019 that 39% of Black adults watch Netflix, compared to 33% of the total population. Responding to the consumer demand, Netflix highlights Black movies, TV shows, and documentaries released on the platform each month. In addition, they also created social media accounts and campaigns to target Black consumers called "Strong Black Lead." 
Sugaberry 
Sumpter and Randolph are also hosting a bi-weekly podcast under the Sugaberry umbrella in partnership with Stitcher called The Suga. Co-founders Sumpter and Randolph believe they are filling a proverbial "White space" in the market.  
Sumpter said when she googled "Black motherhood," everything was dreary, depressing, death, doom, and destruction. Yet when she searched for mainstream motherhood topics, it was all White faces.
At the helm of Sugaberry's content is Editor-in-chief Blaire Bercy, former digital media executive for companies such as Time Inc., Oxygen, and HelloGiggles. Bercy also plans to amplify the perspectives of new Black female content creators, podcasters, micro-influencers, and writers." 
Similar to Essence Communications, Sugaberry is bringing together content, commerce, and community to create a destination for Black consumers. However, Bercy plans to double down on targeting the growing subsegment within Black consumers: the Black working mother. 
 Sugaberry's target 
Sugaberry aims to target  Black consumers at the intersection of career, motherhood, and personal development. A strategic move, as the Black working mother, is also a subsegment within the fastest-growing group of entrepreneurs and is thriving financially without a spouse. As mothers of color, their spending power is growing at a more accelerated rate than White spending power. 
Co-founders Sumpter and Randolph insist commerce is a core part of the Sugaberry brand, and plan to leverage its adoption by Black mom consumers to build relationships with other companies. Similar to the case study and learnings from Red Table Talk, the women want to show the ROI on integrating your product in space for and by Black women. 
Lastly, Randolph thought on why Sugaberry adopted a personalization model to target the Black working mom consumer, a model that companies should leverage: 
"These women and moms over-index in family categories such as personal care and baby products, yet not many companies, brands, and publications are investing back in them. Sugaberry is cross-platform and seamlessly integrated from an affiliate perspective. It's profitable for brands to reach and resonate with these hyper-connected, hyper-vocal, really savvy consumer moms." 
Read more on lifestyle brand Sugaberry.