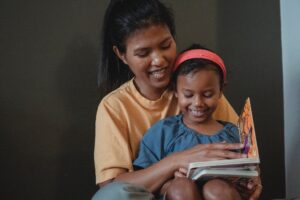 Dana Perino was President Bush's press secretary during his second term- the first female press secretary in a Republican administration. During the September 11, 2001 attacks, she learned the importance of reading to children through crises. 
Seven minutes after being briefed by his chief of staff, that the United States was under attack, the 43rd president remained seated and let a classroom of first graders finish reciting a children's book to him. 
"I'm sitting in the midst of a classroom with little kids, listening to a children's story, and I realize I'm the commander in chief and the country has just come under attack." – George W. Bush, 43rd President of the United States 
Lesson from the September 11 Attacks
PBS has cited the benefits of reading aloud to children from a social and emotional perspective. In April 2018 the American Academy of Pediatrics released a study with similar findings.  
Reading aloud and playing with young children has a sustained impact on children's behavior. Perino also learned from Former First Lady Laura Bush the importance of reading.  
"First Lady Laura Bush had been a librarian and a teacher. Before her time in the White House, and Barbara Bush had started a literacy initiative. I remember Laura Bush saying that in times of uncertainty it is important to keep routines for children. Story time should be a sacred time for families. That always stuck with me." 
Now Perino and a host of other celebrities and authors are leveraging the size of their audiences to reassure children.  
Dana explains: 
"My goal with Story Time is to hopefully settle children down, open their imaginations, and to give them a sense of normalcy. And while some Americans may not be in a trauma situation, they are certainly facing changed circumstances.  With schools being closed or being displaced from work. One thing they can keep consistent is storytime." 
In short, just as President Bush attempted to do during the September 11 attacks, it is Dana's hope of normalcy at homes across America. Though other celebrity children's book authors have also committed to virtual storytime, Perino is the first cable news anchor to spearhead such a literacy initiative.