Featured in The New York Times and The Washington Post, best-selling author Christine Michel Carter is the #1 global voice for working moms. Christine's voice transpires across miles into the heart, mind, and soul of moms everywhere. She has written hundreds of articles with over one million views. Her writing has reached parents and working families in more than 150 countries. Most importantly, at home she's Mommy to Maya and West, the two cutest damn kids on the planet.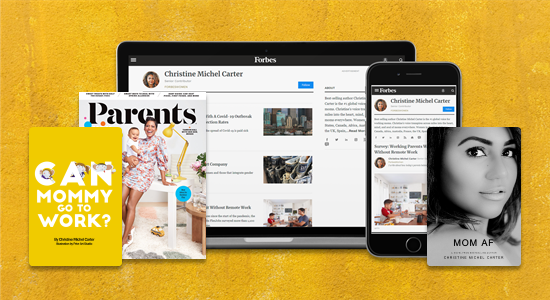 ForbesWomen Senior Contributor
Christine takes the working mother experience seriously. As a ForbesWomen senior contributor, she's written hundreds of articles with over one million views. Christine has also written for a variety of publications, including TIME, Entrepreneur, HuffPost, Health, and Parents. She has interviewed a number of celebrity moms, including former Senator and the first female Vice President of the United States Kamala Harris, Tina Knowles-Lawson, Tamera Mowry, Kristin Cavallari, and La La Anthony.
Best-selling Author
Christine's own best-selling children's book Can Mommy Go To Work? was ranked as an "empowering book" and a "life changing book to guide feminist parenting." Her other book MOM AF was ranked one of the top 10 inspirational books for moms.
(Views expressed are her own and do not reflect any entity with which she is affiliated.)