How can women climb the corporate ladder… if they can't find the time to network or develop professional skills?
More than 70% of working parents say women are penalized professionally for starting families, and men aren't. Nearly half of stay at home moms plan to network with other professionals to find new jobs, but unfortunately 1/3 of them don't have contacts. And almost three-quarters of moms — and more than 70% of women without children — say mothers are offered fewer opportunities to move up the ladder than childless women. Enter
Mompreneur and Me®.
---
Register online for FREE and join us!
Looking for a little instant support? Sign up for our mailing list! You'll be the first to receive the 10 inspirational articles every mother needs to read in 2020 and updates on our next Mompreneur and Me® event!
---
About The Creator
A mother of two, Christine noticed there were no networking events for career-minded mothers that allowed their children to remain on-site. Understanding how stressful, time-consuming and difficult it can be to find quality childcare, she created Mompreneur and Me® events in 2015, so both parents could spend time with their children and network with other like-minded professionals at the same time.
The first national mommy and me professional development networking event, it has garnered the attention of Adweek and Entrepreneur as well as global brands like McDonald's and University of Phoenix. In order to bridge the housework gap, Christine believes all mothers should have access to professional development content on their own terms. They should be able to build relationships with other businesswomen, all the while spending quality time with their child. Most of the mothers who attend Mompreneur and Me events are multicultural too! Christine believes Mompreneur and Me is also helping underrepresented female entrepreneurs also gain access to key professionals and corporate competencies.
Mompreneur and Me® is a turnkey, inclusive event (designed for engaged mothers who control 85% of their household purchases) to help brands avoid wasting time and money on other marketing activities that diminish the brand. See it in action or join now!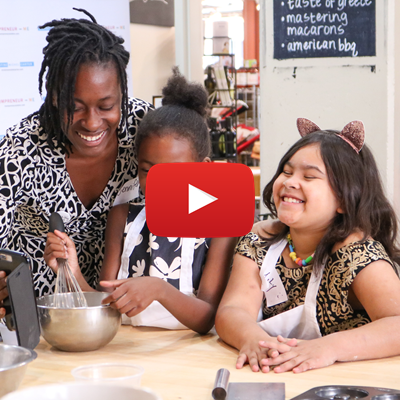 Events Include
A mommy and me physical activity (e.g.: bowling, cooking classes, crafting, hiking, movies, private brunches and lunches, tea time, yoga and zoo parties),
A professional development activity (e.g.: advocating for yourself, asking for help, content creation, brainstorming, handling office politics, interviewing, listening, networking, persuasion, resume writing and small talk,
An opportunity to mingle and network while childcare watches the children,
Local mom bloggers and mom influencers (with their children),
A special gift for parents and their child from Mompreneur and Me® sponsors, and
FREE ATTENDANCE
The events are free for parents and one child to attend (dads welcome!).
Brand Partners
A special thanks to our sponsors, who keep Mompreneur and Me® events free for mothers and their children. These brands are committed to seeing mothers advance in the workplace. Many of the corporate Mompreneur and Me® sponsors are companies with a female CEO or an above-average number of female executives. View Mompreneur and Me's® confidentiality statement.
Mom and Sponsor Testimonials
"I was able to meet Mompreneurs in various industries who offered great advice and suggestions. The speed networking activity provided a framework for purposeful networking and interaction, and I learned actionable information that will help me in my work life."-Mom who attended Mompreneur and Me® event

"The event was fun. (My daughter) and I really enjoyed it. Thank you again for organizing it!" -Mom who attended Mompreneur and Me® event
"This weekend I had the opportunity to attend Mompreneur and Me's NYC event and meet some amazing moms who are bloggers, content creators, entrepreneurs and influencers." -Mom who attended Mompreneur and Me® event
"I love Mompreneur and Me® events, but my kids love them even more! They get to do a fun activity with mommy and I get to meet other professional women who love their babies too!" -Mom who attended Mompreneur and Me® event
"I got a better ROI from sponsoring Mompreneur and Me® events in our target markets than partnering with several micro-influencers solely focused on digital connections." -Brand Sponsor

"Where was this six years ago when I needed more programs to bring us closer to moms?!" -Brand Sponsor
"Working moms are the backbone of our economy and need our full support, and Mompreneur and Me® is changing the dynamics of traditional networking for the modern woman. Who says you can't hustle while also being a full-time mom?" -Brand Sponsor
Event Attendees
The decision-makers in their household (responsible for 85% of household purchases),
Affluent college graduates ages 25-44, with a HH income of $100K, and
Mom influencers with a minimum of 30K followers on social channels and a combined reach of over 1 million on Instagram, Twitter, and Facebook.
Sponsors… ready to find out more?
Companies complain their target market is ignoring their efforts, they don't have the time or budget to manage individual mom influencer relationships, or they create massive corporate events for moms… and no one attends. It's because they don't understand how to develop a relationship with working moms.
75% of the moms surveyed after Mompreneur and Me® events said their opinion of the sponsoring brand has changed. They would now patron their businesses.
It's a turnkey, field marketing event. We've checked with both the moms and brand sponsors, and the moms have used sponsors' products and services post-Mompreneur and Me® events.
The events are deliberately small but mighty thanks to our national network of mom influencers. Brands don't need to manage individual influencer relationships.
Email us for information on how to sponsor a Mompreneur and Me event.
Frequently Asked Questions

How has the coronavirus recession, coronavirus and COVID-19 impacted Mompreneur and Me events?
Given the situation with COVID-19, Mompreneur and Me will not be hosting any live events in 2020. We will return to our live programming in late summer/early fall 2021. We have converted the second portion of our national events to virtual engagements to support our community in staying engaged in your professional development and networking journey. We will continue to monitor recommendations made by the Centers for Disease Control and Prevention and the World Health Organization.
How much does it cost to attend a Mompreneur and Me® event?
Mompreneur and Me® events are FREE for one parent and one child. There's no need to travel outside your city as well… the events come to you! It's important to make sure you're on our mailing list, as subscribers have early access to register for events in their city.
Is there an event occurring in my city?
Our preliminary list of cities in which we'll host 2021 Mompreneur and Me events are:
Washington, D.C.  |  Chicago  |  Los Angeles  |  Houston  |  Miami  |  Raleigh  |  NYC  |  Seattle
However, with overwhelming demand Mompreneur and Me® events can occur in any city. Sign up to be a part of our mailing list, and be sure to tell friends, family and other moms about our events.
How many parents and children participate in an event?
Mompreneur and Me® events are deliberately intimate for not only purposeful networking and to ensure moms receive actionable takeaways, but also to ensure the safety of the children. Each parent is allowed to bring one child only. It's important to make sure you're on our mailing list, as subscribers have early access to register for events in their city.
Are dads welcome?
Of course! We love it when the kids bring Big Poppa!
What happens during the networking/skills hour?
Special guests and speakers vary from event to event, but during the professional development hour, parents can get to know other mothers experiencing the same work-life balance trials and tribulations, and make professional connections to advance their career. Network guilt free… let the children make new friends!
What about the childcare hour? What should I expect?
Expect fun… and safety! Our childcare team is CPR and First aid certified, and has experience caring for children. Childcare activities vary from event to event, but for all Mompreneur and Me® events both parent and children must complete photo and liability waivers and provide a list of allergies, if any.
What is the age range for children to attend?
We welcome children from 4 to 12 years of age. Mompreneur and Me® provides a safe, interactive environment for young ones under the supervision of childcare. This includes a secure parent/child sign in and sign out and crafts.
What is the event attire?
You'll be conducting a hands on activity with your child, so please dress comfortably. Moms and their kids should not wear anything they can't move in comfortably or wouldn't want to get messy!
Can my company sponsor a Mompreneur and Me® event? Do you host private Mompreneur and Me® events for employers?
We do! Email us!
Contact
Email: inquiries@christinemichelcarter.com
Facebook: https://www.facebook.com/mompreneurandme
Twitter: https://twitter.com/MompreneurandMe
Instagram: https://www.instagram.com/mompreneurandme/
LinkedIn: https://www.linkedin.com/groups/8702308/