What Makes Christine Unique: For Brands
CLARIFY MISCONCEPTIONS ABOUT TODAY'S CONSUMERS FOR BRANDS
Christine takes both an "art and science" approach to educating her audiences. Her approach includes art because it requires personal experiences, raw honesty, real understanding, and forethought. The science refers to the insights, marketing analytics, big data, case studies, best practices, psychology, and sociology involved. Christine's marketing firm Minority Woman Marketing LLC is also minority certified to bid on both state (MBE/DBE/SBE) and federal (SAM) level contracts.
SERVE AS A VESSEL OR AMPLIFIER OF THE CONSUMER'S TRUTHS
Christine educates on why micro-influencers matter, what is on the minds of millennials and surprisingly, what is not, who is Generation Alpha—why should your brand care?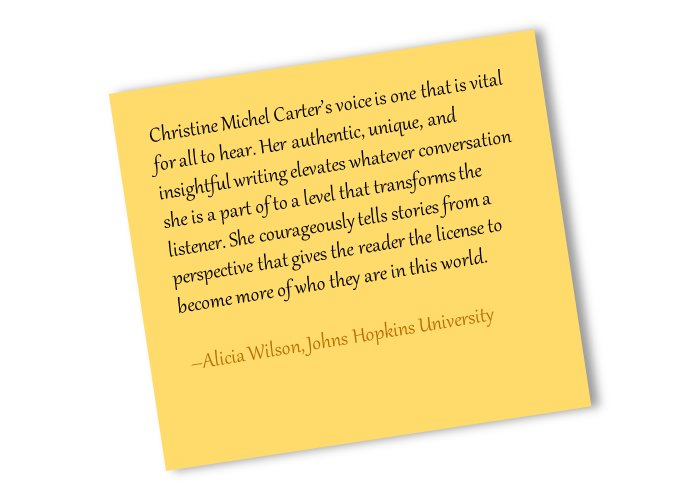 What Makes Christine Unique: For Moms
Almost 85% of U.S. employees believe having working mothers in leadership roles benefits a business. Yet more than 70% of working mothers and fathers say women are penalized professionally for starting families, and men aren't.
IMPOSTOR SYNDROME AND SUMMIT SYNDROME
Christine's viral take on impostor syndrome (anxiety and the inability to accept success) and its transition into summit syndrome (the act of "chasing an unattainable corporate high") have become an in-demand talk by health and wellness and mom-focused events.
Read some of Christine's testimonials here.
An Agency Friendly Advisor
For agencies interested in learning more on millennial moms and black consumers, Christine can serve as an advisor, providing her perspectives and opinions for your clients. From phone calls to long term collaborations, you can connect Christine directly with your team or your client. Rest assured the nature of her consulting relationship with your agency will remain confidential. Even better, rest assured information from your study will remain proprietary.
If your advertising agency or brand is looking to learn more about black consumers, millennial moms or social media influencers, Christine provides private consultations. Her presentations include engagement metrics, formulas and specific action items. Christine combines strategic thinking with creativity and a deep understanding of branding, marketing, advertising, copy writing, psychology, and design to answer the following questions for brands:
How can millennial mom and black millennial consumers perceive our brand so that they react in a way we need them to react… and how do we achieve this?
Christine provides an impartial, third-party perspective while gauging the strengths and weaknesses of brand business plans. She does all the research work in terms of target audience, their preferences and expectations… saving companies a ton of time and money that they'd otherwise spend in figuring it out. Christine's marketing firm Minority Woman Marketing LLC is also minority certified to bid on both state (MBE/DBE/SBE) and federal (SAM) level contracts.
Here's another tip: content remains king. Since 2007 Christine Michel Carter has supported clients with the driving force behind high-quality SEO: content marketing. Christine's popular services include:
Blogging services
Social media content
Press releases
Newsletters
Infographics
When a company's brand is failing to pack a punch with black millennials and millennial moms, Christine Michel Carter is drafted in to breathe new life into it, improve it and help it evolve. She provides a fresh and impartial perspective on the pros and cons of a company's brand and can therefore suggest and implement effective branding solutions that transforms organizations.