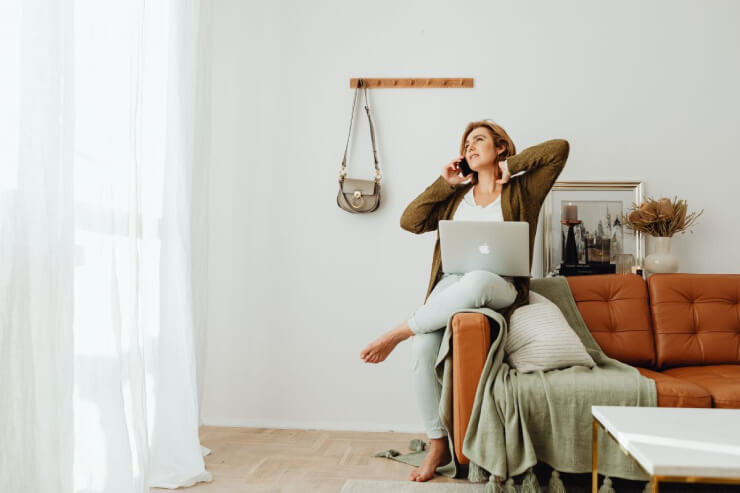 Picture this –
In three weeks your maternity ends, and you have to go back to work. If you're in the United States, this means you're leaving your baby at three months old. I lived in Canada when I became a mom to twins, and while I had a year of maternity, the thought of going back to work crushed me. It took me years, and a lot of trialships, to have my twins and then to leave them for up to 8 hours a day? I just couldn't.
I'm not sure when it started, but I started thinking about how I could support my family without leaving home to go to work. I lucked upon freelancing and I never looked back. I've been freelance writing since my twins were toddlers (they are 8 years old now!). 
I've learned over the years how to incorporate freelancing while still raising my family. Here are four simple ways to work from home and take care of your little one too.
1. Use Nap Times Effectively
Other moms will tell new moms to nap when your baby naps, but I didn't do that. I started working on my freelance business during this time. Oftentimes, my twins would nap up to three hours a day twice a day! I could effectively work six hours a day on my freelance business, but usually it was more like four hours a day. I still had to pump, meal prep and do laundry.
If you want to start freelancing, I encourage you to use your child's nap time to:
Find out what freelance service you want to offer

Look at job boards to find work

Sign up to hosting and start a service-based website to promote your new freelance skills

Network with others to connect with future prospects

Get on social media – like LinkedIn and Instagram – to build your brand and get known
In the initial stages, there is a lot to do to get your freelance business up and running, but I found during nap times, it was manageable and allowed me creativity and "me time."
2. Time Your Tasks
A crucial time management skill I learned over the years as a freelance writer was how to section off my freelance work with my home life tasks. I often worked on my couch, or while I was feeding my twins, or trying to prepare dinner. This is a big No-No! My business suffered, and my family suffered because I was irritable, closed-off and just stressed trying to do everything at once.
To help me plan my day effectively, I timed out my tasks. I would write out my tasks on sticky-notes and denote a color to a time frame. All pink notes would have 20 minutes tasks, all blue notes would have 1 hours tasks and all yellow notes would have 2+ hour tasks.
I would then place them on my wall next to my computer to see what I could feasibly do in the time I had during the day.
3. Delegate Delegate Delegate!
I don't know about you, but as a brand new mom I was extremely overprotective. My MIL wanted to take one twin for a stroller walk every day and I forbade her! I have no idea why but I guess I didn't trust her. It took many months for me to comply and allow her to do this. And you know what? It was one of the greatest things for a mom of twins! I had only ONE child to take care of! Easy-peasy!
Delegating is crucial for your family but it's essential for your freelance business. As a mompreneur, you have to wear many hats – secretary, marketer, writer, social media manager, etc. and after a while you will burn out, become stressed and may give up.
Please don't get to this point! An easy way to free up your time and sanity is to delegate your work to others. Even if you don't have a large budget you can rely on free tools and resources. For example, when I was busy freelance writing for clients, my blog suffered. I hadn't had any new blog posts for months. So, instead of giving up blogging altogether, I interviewed other writers and used that as my blog post. I barely did any writing and it took minutes to format the post and publish it.
Additionally, using Google Sheets is an effective digital planner. Create a sheet of your clients, work, deadlines and any other things you need to note.
Finally, you can open up your blog to guest writers. I own two contributing blogs and I gain free content which helps me manage my blogs easier and frees up time for me to do the important things like finding work!
Other free tools and resources you can use are:
Hemingway Editor

Canva

Final Cut Pro (for video editing)

Calendly (to schedule appointment)

Zoom

Trello
4. Only Work 3 Days Out of The Week
It is possible to build a freelance business with only one hour a day! Similarly, it's possible to only work three days per week – Monday-Wednesday – and build a successful business.
In all the years I've been a freelance writer, I've only worked part-time hours. Now that my twins are older and doing online schooling, I set my hours to work from 9-3 Monday-Wednesday and any tasks I don't complete during that time, I can either roll it over to next week or finish it the next day! The luxury of having your own freelance business is flexible work hours!
Ready to Become a Mompreneur?
Freelancing has been the best thing for my family. Over the years, we have traveled, done road trips, visited friends and family and I've had the pleasure of volunteering at my twins school. I wouldn't have been able to do this without freelancing and the support of my family. I hope these easy tips can help you freelance while raising a family. 
Share in the comments if you're an aspiring mompreneur! I'd love to check out your business!\
This article was written by Elna Cain.