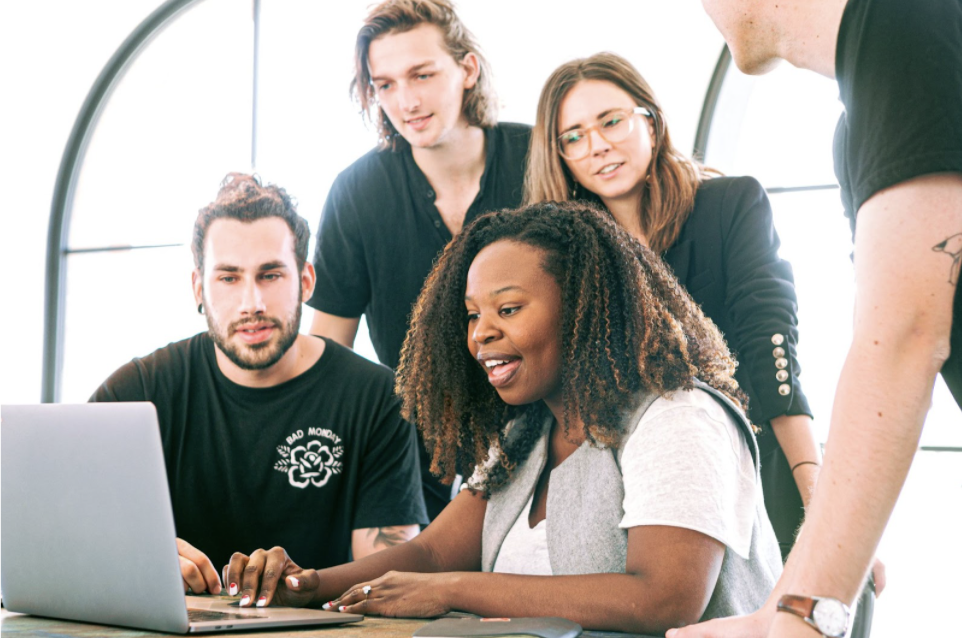 The Fastest-Growing Careers
Whether you're just starting your career or you've been in the workforce for a while, it's crucial to be on top of in-demand fields in the job market. The economy is constantly changing due to technological development, so you should be aware of the current trends in the market. 
We have compiled some of the most in-demand careers in the upcoming decade. The good news is that you don't necessarily need traditional education to prepare for many of these roles. Some of these careers only require on-the-job training or courses, so even an online course or a coding bootcamp could help you gain in-demand skills. 
All information from this list was sourced from the Bureau of Labor Statistics' job outlook for all occupations. Read below to learn about some of the top careers with the highest potential job growth in ten years. 
Wind Turbine Service Technicians
The role of a wind turbine technician, also known as a wintech, is to build, maintain, inspect, and troubleshoot wind turbines that generate electricity. They can diagnose and fix any problem that may arise which causes the turbine to shut down unexpectedly. A few of their main duties include climbing the towers to inspect or repair equipment, collecting data for testing and analysis, and performing routine maintenance. 
Most wind turbine service technicians learn their trade by attending technical schools. They can obtain a degree and be job-ready in about two years.
The global increase in wind farms has caused a direct impact on the job outlook of wind turbine technicians in the next decade. According to the Bureau of Labor Statistics, their demand will grow up to 68 percent from 2020 to 2030. 
Nurse Practitioners
A nurse practitioner may be the first professional to diagnose you in a healthcare facility. The person who evaluates your medical history examines your X-rays, and diagnoses your condition is not always your physician. Nurse practitioners are prepared for this and much more. 
Their duties include providing a health history and assessment to patients, formulating a diagnosis, prescribing medications including controlled drugs, setting and casting dislocated joints and fractures, and ordering diagnostic imaging tests. 
The estimated job outlook for nurse practitioners is a growth of up to 45 percent, one of the highest job growth statistics projected for the next decade. There are about 29,400 projected job openings each year for nurse practitioners. This is because hospitals will need to replace individuals who transfer to different jobs or exit the workforce.
Solar Photovoltaic Installers
The role of a solar photovoltaic installer is to set up, troubleshoot, and maintain solar panels or other devices that convert sunlight into energy. To become a solar photovoltaic installer, you only need a high school diploma, although some take courses at a technical school. No formal education is required as PV installers will typically receive training on the job.
Due to the incredibly fast growth of the renewable energy industry, the demand for solar photovoltaic installers has increased up to 52 percent, according to BLS. About 2,300 job openings are projected each year. This is a high-demand career with an average compensation, requiring moderate on-the-job training. 
Statisticians
Statisticians turn data into interesting insights. They work with theoretical or applied statistics, using math fundamentals to predict outcomes and find patterns and trends using raw data. Statisticians can work in almost any sector, including governmental, finance, fashion, and even the tech industry. 
To become a statistician, you typically need a master's degree or higher in statistics or mathematics, but some positions are open to those with only a bachelor's degree. 
According to BLS, the estimated job outlook for statisticians is a rise of 33 percent, which is much faster than average. About 5,200 job openings are projected each year. Unlike solar photovoltaic installers, this job offers a high compensation of up to $93,290.
Information Security Analysts
An information security analyst sets up, configures, and maintains software and hardware (such as firewalls) to protect computer systems. Their role is to protect sensitive information within a company, such as employees' personal data. They perform safety measures to prevent malicious entries and failures in the security system. As the number of cyberattacks is increasing over the years, IT analysts' responsibilities, and therefore their wages, are continually growing. 
Information security analysts can work for many different sectors, including consulting firms, computer companies, or business and financial companies. The projected job outlook for information security analysts is a growth of 33 percent, with about 16,300 projected job openings each year. Their average salary is around $103,590. 
Data Scientists
Data scientists collect, filter, and analyze structured and unstructured data to discover interesting insights. They collect and report on that data, communicating their findings to business and technology leaders. They use different software and statistical fundamentals to find actionable insights for business decision-making. 
Data scientists must have a solid understanding of computer science, mathematics, and algorithms, as well as human behavior. It is generally a high-level position, so most data scientists have gone through traditional education to obtain a degree in statistics, mathematics, or computer science. Over the years, however, more people who want to become data scientists are looking into alternative education, such as data science bootcamps.
The average salary of a data scientist is $126,830, while the projected job outlook is a growth of 22 percent.
Epidemiologists
As we all know, the COVID-19 pandemic has changed the world as we know it. The role of an epidemiologist is particularly important in today's society because of this. They have shaped how governments and the entire population have responded to the pandemic, by implementing safety measures such as social distancing, lockdowns, and mandatory mask-wearing.
Sometimes known as "disease detectives", epidemiologists investigate new diseases and study their patterns to prevent, control, or stop the spread of possible outbreaks in the population. Their duty is to keep us safe from epidemics and pandemics by implementing appropriate security measures whenever a new and rare disease is discovered. 
Physicians, scientists, veterinarians, and other professionals in related fields often train to become epidemiologists. To obtain a role in this field, individuals must have a master's degree, gain work experience, and attain relevant certifications. They often work in laboratories and offices, at health departments and hospitals.
After the COVID-19 outbreak, the demand for epidemiologists increased up to 30 percent. Their current yearly salary based on BLS data is $74,560.
Software Developers
Software developers are computer programmers who design, build and maintain computer applications. They often create smartphone programs or apps, and some may even create huge networks that trigger and power other programs. They work with different programming languages to create all types of programs for different purposes. Some of the most popular programming languages they use include HTML, JavaScript, and CSS. 
To become a software developer, you typically need a bachelor's degree in computer and information technology or a similar field. Depending on the employer, some may prefer a master's degree. They often work in offices with teams of other software developers and programmers; however, many remote jobs are now becoming available. They must have a balance of hard and soft skills, as they will be communicating with a team or client just as much as they will be developing software.
BLS estimates that the job outlook for software engineers will grow by 22 percent, much faster than average. Their yearly salary is around $110,140; however, companies like Google can offer a base salary of $120,000.
Translators
A translator's role is to interpret different languages and act as the bridge between foreign and native speakers. Being able to speak multiple languages allows you to join the workforce in any country where those particular languages are spoken. 
Translators work in many different settings, including schools, courtrooms, meeting rooms, and hospitals – anywhere a translation service is required. For this role, you'll typically need a bachelor's degree; however, the most important requirement is a very good understanding of the English language and fluency in at least one other language. Some translators work remotely, while others work for translation companies or private clients. 
Translators are needed in every country. They are very important professionals, as they enable effective communication between people in different parts of the world. They are essential to the development of a global economy, which is why their demand has gone up to 24 percent. The average annual salary for a translator is $52,330.
Conclusion 
An in-demand skill might be your key to finding future job opportunities. That's why it's so important to do some research. And discover what the booming careers will be in the next decade. This list contains only a few of those in-demand jobs worth considering for a possible career change. The possibilities are endless, so do your research to discover what skills you have or would like to acquire for your next future job.