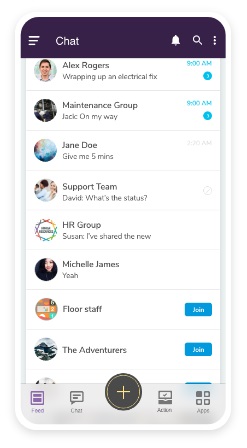 Double Duty for Working Moms is a Breeze with Groupe.io, Authored by: Vijay Pullur, CEO, Groupe.io
Every job has its own challenges. However, the challenges for working moms are beyond our comprehension. Working mothers are constantly juggling between their professional and personal responsibilities. When this becomes overwhelming, moms contemplate leaving their jobs and focussing only on raising their kids. After all, managing a child is not as easy as reading a document and signing it off. Balancing work and motherhood becomes cumbersome at some point in time.
The mental battle and physical exertion that a working mother faces lead to other issues like fear of missing out at work, self-doubts, and low efficiency. However, all is not bleak in the future of working mothers. Technology has come to the rescue of working mothers in the form of mobile-first employee software. This tool helps businesses stay connected with their distributed, frontline, and remote workers, among other things. 
Groupe.io
Groupe.io is a platform that uses advanced digital technology and automation to help reduce the workload of frontline workers. It allows asynchronous communication between workers and supervisors, leaving working moms the time to balance their hectic schedules. This feature gives leeway to moms to focus on what matters the most, be it at work or at home.
Groupe.io also integrates various resources and tools, thus saving time and energy for employees. It's a tool that supports real-time communications between peers and teams. This feature helps working moms to reach out to their colleagues for help or in the event of an emergency. Ultimately, Groupe.io helps working moms save time, connect with their team and supervisors, and get sufficient downtime to focus on their personal lives when needed!
It is a portal where everyone interacts with each other directly
Thereby abandoning the concept of hierarchy. This also eases up the process of lending and asking for help, guidance, and information in case of urgencies.
While a mother feels exhausted handling and executing plans at home, as well as in the office, Groupe.io helps in keeping a tired mom's morale high by allowing other team members to share constant recognition for her work and effort. The exchange of motivational messages, acknowledgments, and praises help mothers to feel more connected and involved with her work and peers amidst her chaotic life. 
With the help of Process Automation (task manager, checklists, digital forms) that helps in automating routine tasks and reducing the workload, daily hassle for a mother becomes bearable. This helps in freeing up time for a mother and allowing her to check on her child's needs without hampering the overall outcome in the workplace.  
Groupe.io's user experience and a single user interface for several different operations like HR, payroll, approvals, etc. So to saves time for working mothers and allow them to have a smooth workday. It not only helps in keeping their mental state healthy but increases their efficiency by not letting their work suffer. Especially because of something as beautiful as motherhood. A mother always knows her priorities, but she wishes to not have to choose between her work and her child in the end.