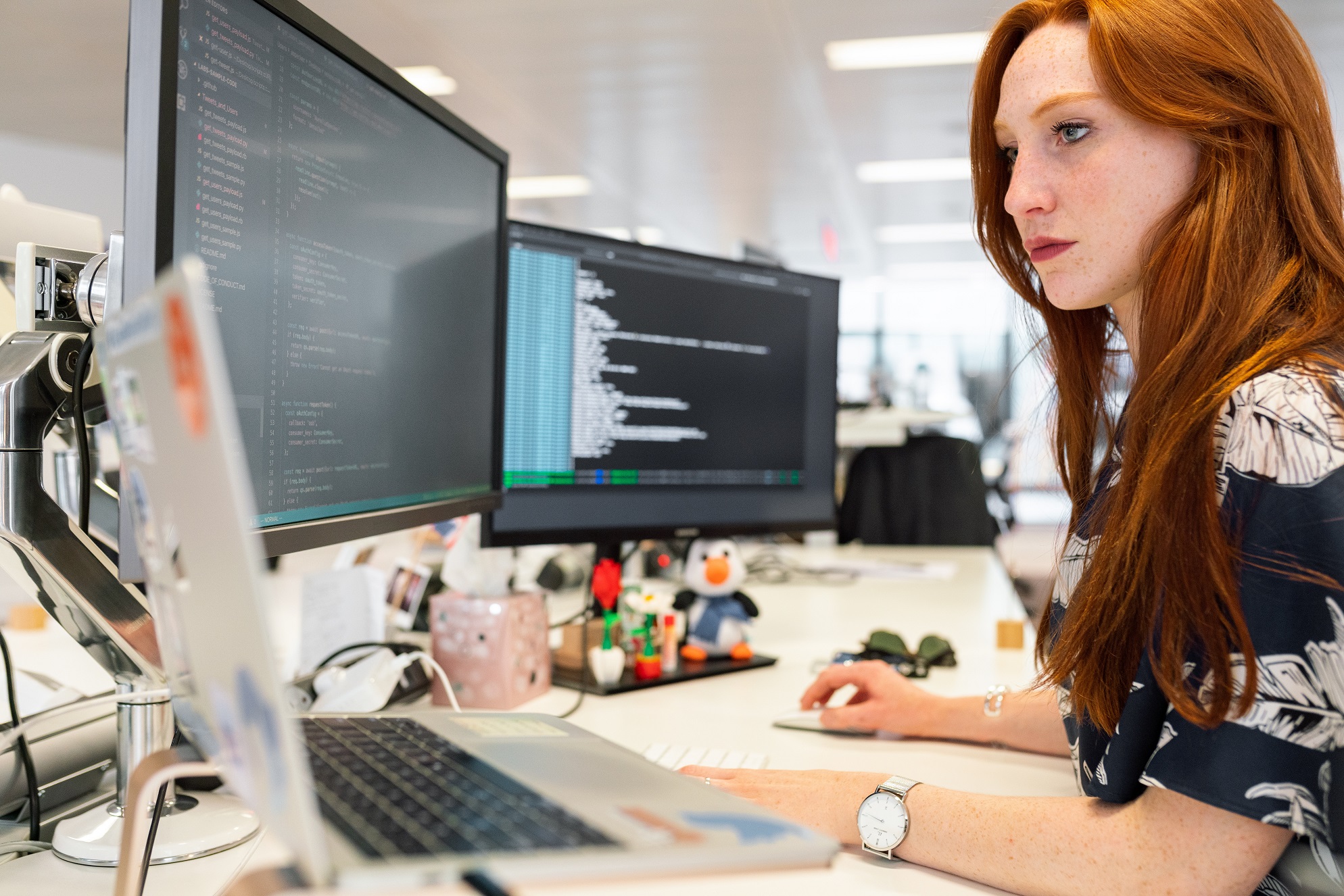 There's an undeniable gender gap in the tech community where women represent only a minimal fraction of the entire workforce. According to the National Center for Women & Information Technology (NCWIT), only 25 percent of the tech force is held by women. Men also have the majority of senior roles in tech corporations. 
That's why there's a strong movement to encourage women to join tech careers and facilitate their access to education. Many organizations and schools offer financial help for women who'd like to pursue a tech career. Below, you will find some of the best tech scholarships and financial aid available to women pursuing STEM careers.
College Scholarships
A college education is still very relevant in the tech industry, and there are numerous universities with cutting-edge curricula that'll help you break into tech. We have compiled some of the best college scholarships for women below. Some of these scholarships cover full tuition, while others cover a fraction of the tuition cost plus expenses.
This scholarship will give you a full ride to a tuition-free college degree. It is sponsored by the Chicago-based gaming company Cards Against Humanity. You will get this full-tuition scholarship just by sending a three-minute video explaining a very interesting STEM topic that you like. 
Your video must be public, less than three minutes, informative, and accurate to meet the criteria. If your video is more than three minutes long and is private, the selection committee will ignore it. Be aware that you don't need the highest quality products. You only need to be creative and a STEM enthusiast. 
This scholarship is awarded by the American Department of Defense. It covers full-tuition costs or the equivalent of $38,000. You must be over 18 years old and participate in DoD's summer internships. After graduating, you must be willing to accept a job vacancy in the Department of Defense. When applying for the scholarship, you should be pursuing a tech career in one of DoD's prioritized fields. You must also be a citizen of the following countries:
United States

Australia

Canada

New Zealand

United Kingdom
The Society of Women Engineers is a scholarship offered to students who self-identify as women and are currently pursuing a graduate or undergraduate STEM career in a community college. This scholarship covers $16,000 of the tuition cost. 
The requirements for this scholarship are focused on your career background and passion for a STEM career. You must submit your resume, official transcripts, letters of recommendation, a cover letter, and more. Your interest in this technical career must be reflected in your personal statement, work experience, and letter of recommendation. 
The Society of Women Engineers offers 100 scholarships each year and has already given $4.5 million in grants over the last few years. The deadline for submitting your application is in December and ends in February. 
Coding Bootcamps as an Alternative to Traditional Education
Coding bootcamps are a great alternative for breaking into tech. They're short-term technical courses that are more affordable, up-to-date, and shorter than traditional education. Most of them are online and come with a flexible schedule making them ideal for busy people, especially work from women that receive tech salaries.
You can pursue all types of STEM careers with a coding bootcamp, and if you're worried about their acceptance rate in the job market, just look at the news. According to CNBC, 14 companies, including Google, Apple, and Starbucks, are ditching the college degree requirement. 
Going to college has become excessively expensive for most students. Most of them end up having an average student debt of $28,950, according to the Institute of College Access and Success. This has also limited companies from a wider pool of tech candidates, especially considering the gender gap in the IT industry. By throwing out the college degree requirement, they have a more extensive list of talented candidates that may not have had the opportunity to earn a college degree.
Even Joanna Daley, IBM's vice president of talent, has mentioned to CNBC that 15 percent of their talent comes from non-degree candidates or those who graduated from a coding bootcamp.
Coding Bootcamps Scholarships
If you've decided to give coding bootcamps a try, you should also know that many of these schools are interested in reducing the gender gap and empowering women through education. You can enroll in coding bootcamps like General Assembly, Thinkful, Springboard, and Coding Dojo. In the following section, we have listed some of the best coding bootcamp scholarships to bootstrap your career in tech. 
Bloc – Close the Gap Scholarship Fund
This scholarship covers 25 percent of the program's tuition cost. It is available for the web developer and designer career tracks only on the part-time schedule. You must apply for it on Bloc's website during the program's application process, send your background information, and your aspirations for this course, and schedule a call with an advisor.
Flatiron School – The National Center for Women and Information Technology (NCWIT) Scholarship
Flatiron School has partnered with the NCWIT to offer this full-tuition cost scholarship for students who identify as women, queer, and non-binary individuals. This scholarship is only available in Michigan and Alabama. The Michigan scholarship only covers the data science and software engineering courses, whereas the Alabama scholarship only covers the online cybersecurity career track.
Code Fellows – Diversity Scholarship Fund
This Code Fellows scholarship covers 50 to 70 percent of the tuition cost as a source of financial aid available to women pursuing STEM careers. You will have to go through the regular application process for your program and let a Code Fellows advisor know that you're interested in getting a scholarship. The advisor will then send you a link to the scholarship application page. You will answer some essay questions about yourself and your aspirations. You must do this three weeks in advance before the program starts.
Ada Developers Academy
Last but not least, there is the Ada Developers Academy. Although it is not a scholarship, it is a non-profit organization that provides tuition-free STEM courses to women and gender-expansive students. This includes transgender individuals and non-binary students. Ada Developers Academy prioritizes certain groups in the selection process, including black, Latin, Asian-American, and low-income students.
In Summary
Even though there is an undeniable gap for women in tech, there are also enthusiastic organizations and schools that want to provide financial aid available to women pursuing STEM careers. You can choose either a college degree or a non-traditional career path and still get financial aid opportunities. Remember that you don't need expensive resources to apply for a STEM scholarship; you'll only need your official transcripts, resume, and a willingness to demonstrate your passion for technology and science.