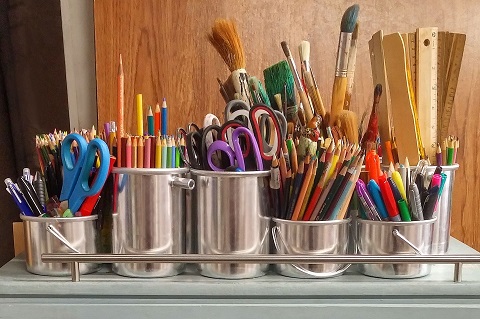 How Working Moms Can Bond with Their Kids?
By: Devi Rif – for Craft-Ease
The last year and a half have not been anyone's greatest year. But it did bring some positive light in terms of the quality time that we are all able to spend with our family. Being in quarantine you get to spend a lot of time with your little ones – maybe even too much at times. But as the world is slowly going back to normal, and schools are opening back up, you might consider sending them back to the world.
It is important to forge a strong bond with your kids as they are adjusting back to normal life. Setting aside dedicated time when you can focus on one task at a time can help this process. Creating something together can be a great way for your kids to relax and open up to you about their experiences, so you as the parent can easily help in guiding them through the transitions.
Beyond the post-pandemic life, you can also keep the crafting night as a pulse check with your kids. Forge the relationship between the two of you, this can help in cultivating trust and making sure your children understand that they are loved and you will be there for them.
The shared experience can be your chance to talk to your kids, as they get older they may become increasingly distant. You might not understand everything that goes through their mind, craft night can be your window in. Help them solve their life puzzles.
Make Time
So how can you start going crafting with your kids? It's great if the family is able to make this a regular activity at home. Being committed to scheduling it in your busy life is key.
Get them excited about it by involving them in deciding what you will create. Let them pick what they like and you can do what you enjoy! Talk to them about what project you will start together like picking out a puzzle design or craft kit.
Involving them in the process helps cultivate their creativity and decision-making skills as well. Give your kids the space to explore their curiosity in different kinds of crafts the family can try out together. This creation of a safe space, where they can decide what to do and makes imperfect results are crucial.
Some Ideas on Starting
Being busy should not be your excuse for not starting, there are plenty of all-containing art kits out there you can try out!
Paint by Numbers Kit – is widely available at various difficulty levels. It will contain the canvas, the design, and all of the colors and tools you would need. 
Fantasy Terrarium – let the imagination run wild by creating a tiny meadow for unicorns.
Diamond Painting – this type of craft is recommended for kids over the age of  9 due to the small components. But it's very therapeutic and will not get in the way of any conversation you want to start with your kids. Maybe even get a customized kit with a family picture on it.
The key is for both you and your kids to enjoy the activity and share a nurturing positive experience. You have to enjoy this time and they have to enjoy this time with you. Come out of the experience feeling good about what you created together!