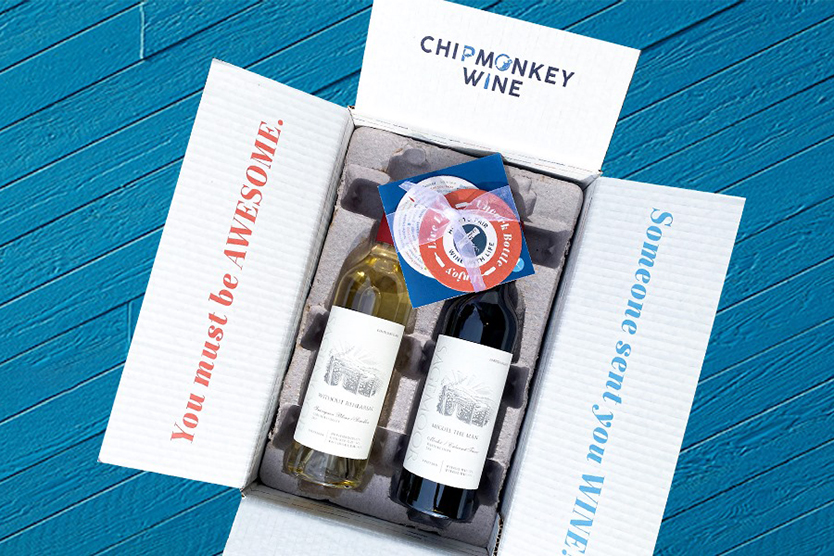 Sommelier Kanchan Schindlauer was busy raising two small children when she decided to launch Chipmonkey Wine. Her dear friend had just lost her husband to cancer, and Schindlauer wanted to send a delicious wine with a personal touch. Nearly two years later her business, born out of a gesture of compassion, has become a unique, go-to source for wine gift-giving for any number of life's celebratory or challenging occasions.
Always the funny kid growing up, Schindlauer pairs wine and humor at Chipmonkey with witty, customized cards and clever packaging. Even the company's name has a quirky origin story. It's the combination of Chipmunk and Monkey, the nicknames of her two children. She jokes, "they are, after all, the reason we need a drink."
Schindlauer developed a passion for wine many years ago during a trip to Styria.
A fairy-tale-like Austrian state famous for wine, endless rolling green hills, and castles. Today, after much research and studying, she's become a certified sommelier.  And holds an advanced Level 3 wine certificate with the Wine and Spirits Education Trust (WSET).
It wasn't until after having children that Schindlauer decided to launch Chipmonkey. "It was definitely challenging at times. I was raising my children and working in a male-dominated field," she said. "Despite the extra hurdles I had to overcome due to gender bias, with the support of my family and friends, I was able to build a successful online wine business."
Schindlauer offers wines on Chipmonkey that are approachable but never sacrifice taste or quality. "I believe a sense of humor is an important life skill, especially as a parent," she said. "Although I pair wine with life using lots of humor, I always take my wine selection very seriously."
Most of the wine is from her home state of Washington and other areas of the Pacific Northwest. But, Schindlauer also features true Champagne from France and other old-world wines that fit the bill of artisan and delicious. While sparkling and red wine remains the most popular wines to gift, Chipmonkey offers whites, rosés, or a mix as well. Tasty, non-alcoholic options are also available upon request.
As Chipmonkey continues to grow and expand, Schindlauer is looking to focus on opportunities with corporate clients. She has already had several larger orders from companies in the Seattle area. They are looking to provide special gifts of appreciation for their staff and clients.
Chipmonkey's tagline is "There's a Wine for That!"
Schindlauer aims to deliver on that promise. As the Covid pandemic eases and employees head back into the office, she believes this is an ideal opportunity for companies to re-engage their employees and clients.
"What better way to say thank you for your hard work and dedication through this wild time than with a unique, specially-created sentiment. Paired with a delicious bottle of wine,".
We'll be watching to see what's next for this successful mompreneur!