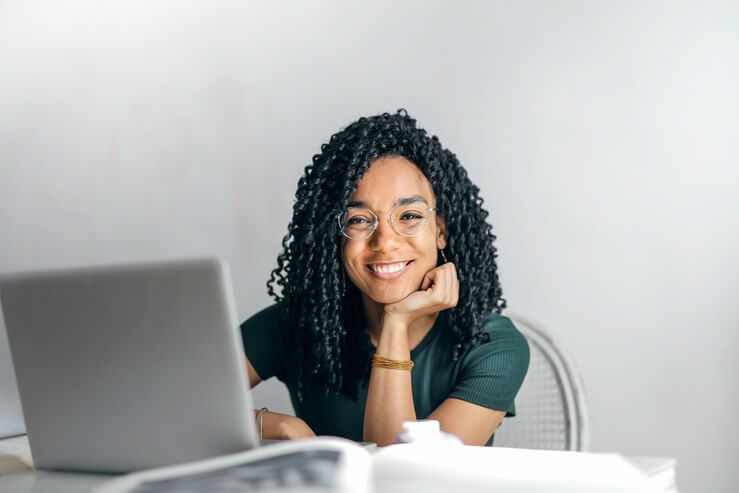 By: Catherine Way
Women have been juggling family and career responsibilities for a long time. While the balance between both is delicate, thanks to remote work, the balancing act became harder than ever.
With offices and schools closed parents everywhere have been focused on trying to be productive and take care of their families.  Many have wondered if being productive is even possible when working remotely.
I have been working remotely for 6 years. Shortly after my son was born I became a freelancer. While I struggled to find my footing, I was able to create a budding freelance career and care for my son while working remotely. Here are my best tips to be productive when working remotely while caring for your family.
Time blocking and Routine
Routine and schedule is the best way to be more productive when working remotely. There are many moving pieces to organizing your family and career so it's necessary to have a routine. By establishing a routine and time blocking your day you can be more productive.
By prioritizing and scheduling you can open more pockets of time to be more productive. This is where time blocking comes in. Time blocking is about gaining control of your tasks and making the most effective use of your time.
Time blocking is the practice of planning out every moment of your day in advance and dedicating specific time "blocks" for certain tasks and responsibilities. For work, this can be only answering emails from a certain time and eliminating wasted time going back and forth. You can also use time blocking for your family.
When working remotely it's important to work with schedules not against them. If your children at home tend to be loudest at a certain time of day, it might be better to block for an easier task that requires less focus, instead of a meeting at that time. Instead, plan routines that are easier for you and children to follow and even block for time to be used to handle issues that pop up.
Easy Steps To Start Time Blocking:
Prioritize Tasks (Daily / Weekly/ Monthly)
Write A Routine For Your Day
Plan Flexible Tasks
Create An Everything Daily To-Do List
Time blocking and establishing a routine is essential for remote moms. By using time blocking are more productive with fewer hours, and can spend more quality time with my son. I can block for days at the park, homeschool, and work tasks so that I can be my best self at work and with my family.
Family To-Do Lists
While time blocking can be a great to-do list to get the most important tasks done at work, to-do lists still play a large role for my family. My to-do lists incorporate the family and I use them to help myself to be more productive.
My six-year-old has seen his mom work from home since he was born, so while the sight of mommy working on his computer is not new, often I can feel guilty if he has too much screen time. One way I help my son be entertained is through to-do lists.
While my to-do list might consist of mundane tasks such as dishes and laundry, he has more fun daily activities. My son's daily to-do list will cover: play with Legos, trains, color, and more. This helps give him an idea of fun things to do throughout his day and helps keep me more productive.
By using to-do lists for the family I can rest assured that anything my family needs will be taken care of and covered. This helps keep me focused and more productive as I will have to work less and be fully present in the moment.
Have Regular Family Time
Working moms like me can feel guilty for any time spent away from their kids. That is why I think it is so important to plan regular family time.
This helps me stay more productive for a few reasons. Firstly, it helps me feel more focused as I can better devote my time to family and my job. Secondly, it helps my son to know that mom and dad while they might be busy will always make time for him and spend time with him. Lastly, it helps all of us feel closer as a family.
Some of the ways we plan regular family time is through weekly trips to the park, daily family dinners. We also got a fun family challenge book that is a fun way to play games and get to know each other better!
Family time is also great for reducing burnout and removing moms' guilt, making it less likely you will feel stressed. People who spend more time with family find healthier ways to cope with stress, A study conducted by Carnegie Mellon University found.
By scheduling regular family time I have found I can be more productive as I am more focused when working and less likely to get distracted. Having regular time with my family helps remind me of why I work so hard so that I can provide a better life for the people I love the most, my family.
Summary:
Women have juggled how to maintain their careers and be good mothers for decades. To be more productive and more time with family is on every working mom's wish list. While juggling all the responsibilities can be hard, having a plan of attack makes it easier for you and your family.
I have worked from home for 6 years, and while some days don't exactly follow the plan, I am more productive than ever thanks to these tips.
Here are 3 Remote Mom Productivity Tips That Actually Work:
Time blocking and Routine
Family To-Do Lists
Have Regular Family Time
What is your favorite productivity tip?
About the Author: Catherine Way is the Marketing Manager at Prime Plus Mortgages: Mortgage Notes Investing. She has created content for the following industries: Real Estate, Mortgage, Finance, Business, Real Estate Investing, and many more.