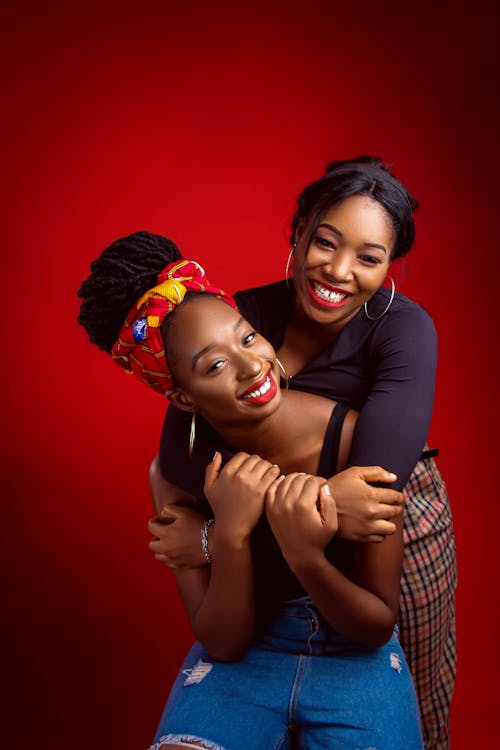 Black Single Moms Are Finding Support In Spirituality, Therapy, And One Another  
Jankail Adams is nothing without her village. 
"My friends carry my water. They have journeyed with me through some of my darkest times. When I found myself on my own, in middle age, I struggled to let anyone help. I've had to become unafraid to be vulnerable and transparent with my mess so that someone who loves me can stand in the gap". Says the mother of two from Pennsylvania.
She is not alone in realizing the necessity of relying on more than just herself. Black moms are over five times more likely to define themselves as single compared to their white counterparts. In place of support from a spouse or partner, presently, these women are most likely to rely on each other. 
That village now includes other Black moms, therapists, and those who encourage self-care practices that bring us relief. We celebrate these resources, as they revolutionize Black motherhood from servitude to an enjoyable experience.
In addition to building a village to lean on, more black single mothers are also seeking support from the experts. 
Black moms started therapy or counseling during the pandemic 
Licensed therapist Dr. Erika Beckles Camez, believes therapy is a great way to feel seen, heard, and supported. She's encouraged that not only are more people becoming open to it in response to the global pandemic.  
From caring for older family members to being ignored in the workplace, the global pandemic has forced Black moms to find any and all external resources to help them "push through." They've embraced internal ones as well. As a result, self-care and the preservation of mental health have become a priority. 
 Zakia Torres, a Maryland mom of four, started learning more about spirituality three years ago when she separated from her now ex-husband. Relying on it, she says she's found peace, success, and love again. 
Maryland-based private yoga and meditation teacher Tianna Christine has seen a drastic increase in Black mothers who have turned to mindfulness as a tool to help them to cope with the many issues and traumas faced during the pandemic. 
However, even with all this community support, caregiving support is one area where many could use more support. A great number of black single moms are solely responsible for household management. That includes everything from laundry, meal planning and preparation, and grocery shopping, to schedule medical appointments for the family, paying bills, and even pet care 
As Black mothers, we're often expected to play Superwoman, supporting not only our household but also our corporate organizations and society as a whole. We receive very little assistance and even less praise for doing so. The stressors of the pandemic have helped us to reprioritize things, allowing us to redefine the village that raises our children.  
 Read more on how Black Single Moms Are Finding Support In Spirituality, Therapy, And One Another on Essence.