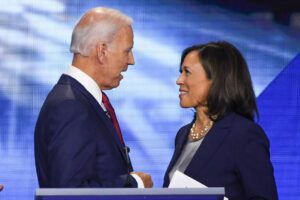 One can argue that Harris is outspoken and candid, and putting her on the ballot alongside Biden will balance his reserved demeanor. But what some are questioning, is precisely how much influence Harris will have on his policies. 
Harris is the former chief of the Division on Children and Families. She established California's first Bureau of Children's Justice and has a reputation for favoring parents.
Most importantly, COVID-19 has changed maternal and racial injustice. Agencies and corporations are now considering childcare an economic development and public health issue. Citizens are demanding policy reforms and impartial treatment towards black Americans. 
Therefore, you can expect Harris to influence the following. 
Harris supports paid family and medical leave plans. 
Most importantly, she promised to put children at the center of her decision making. Similarly, she feels their needs are to be treated with the same importance as any other national priority. In October 2019, she announced her "Children's Agenda," which included a plan for working families. 
Similarly, Biden fought for the Family Harris also recognizes childcare as a problematic expense for families. In addition, Biden has also said the United States should guarantee 12 weeks of paid sick and family leave for workers. 
Hence, Harris's stance on paid family and medical leave seems to align with Biden. 
Harris also recognizes childcare as a problematic expense for families. 
Indeed, childcare is the 2nd largest monthly expense for families, after their mortgage or rent payment. Hence, she said she would propose a cap on child care costs, of 7% of a family's income, if elected president. 
Since childcare centers operated on razor-thin profit margins even before the global pandemic, Biden also proposed emergency funding to help keep struggling child care centers afloat.
More insights into how Harris will influence Biden's policies.