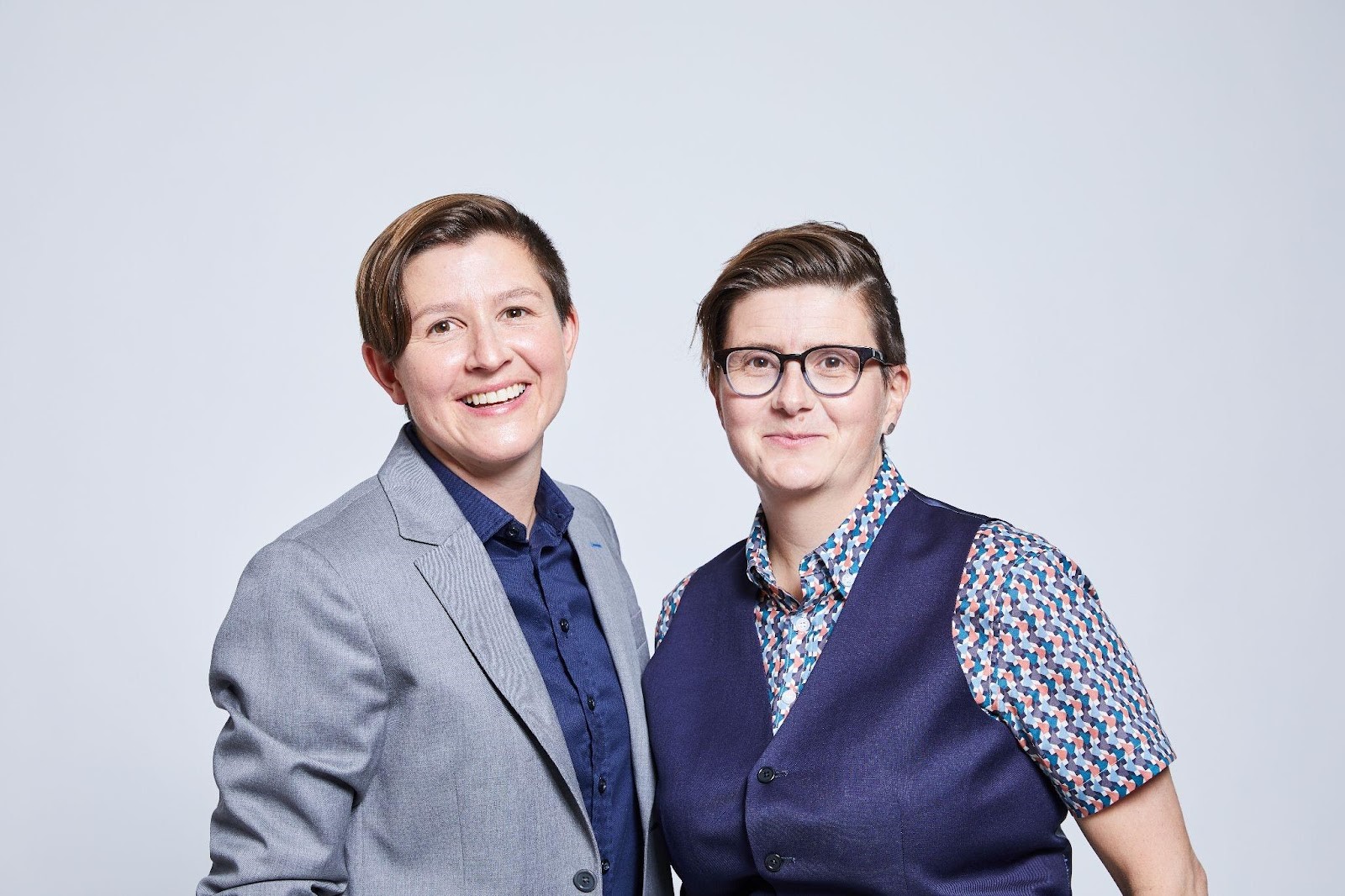 Working Mom Laura Moffat
When I decided to quit my job in pharmaceutical marketing and travel the world with my new wife, Kelly. I never envisioned that seven years later, we would be running a successful e-commerce fashion company together and raising twins. 
It is ironic because neither of us was particularly into fashion. We never really felt comfortable in traditional womenswear. And although we liked the style and design of menswear, it didn't fit our bodies. The issue came to a head when we began looking for clothes for our wedding. And realized how difficult it is for women like us to find alternative options to a wedding dress. Being unable to find clothes that matched our inner core left us feeling like we couldn't fully be ourselves. That changed in 2015 when we decided to launch Kirrin Finch, a ready-to-wear menswear-inspired women's clothing brand. To meet the growing demand for gender-inclusive and sustainable fashion.
Then in 2016, we started down the path to having kids. And to our surprise, after a successful IVF implantation, we were told we were having twins! Jasper and Piper were born in November 2017, and have been giving us a run for our money ever since. 
Running a business is hard. Raising twins is hard. Doing them all at the same time together with your life partner is a challenge, to say the least! What I've learned from being a business owner and parent to twins is that you have to expect the unexpected. Just when you think you've nailed down that parenting milestone (insert anything to do with kids and sleeping) everything changes, and the same can be said for business.
In February of 2020, we launched our first ever suiting collection, and we had the best sales month of our business. Then one month later, the pandemic hit, and I thought we would never sell a suit again. But here we are over a year later, and we can't keep our suits in stock. We've hired four additional employees and moved into a larger office space all to keep pace with our rapid company growth! 
The one thing that keeps me sane as a business owner and a Mum is a support network. As a business owner, I have sought out mentors and fellow founders for advice and support. During the pandemic, I joined HeyMama, a group for working moms, and I was recently accepted into the Ladies Who Launch mentorship program. Both of these programs have helped me stay focused on the future and growth of the business. When my son was having unexpected challenges in pre-school I spoke to other parents who had gone through similar situations.
I went from "the world is crashing down on me" to "everything is going to be alright". When times are tough, hearing about how others have pivoted or worked through challenges can be instrumental to dealing with the unexpected. It may not necessarily be what you had planned for, but someone else may have gone through it before and they can help guide you in the process.
At the end of the day, you can write business plans, set forecasts, and think you know what you are getting yourself into. But life will always throw you curveballs and you just have to adapt and roll with the punches. Who knows what I will actually be doing in five years, but one thing I do know is that it probably won't be what I had planned for.