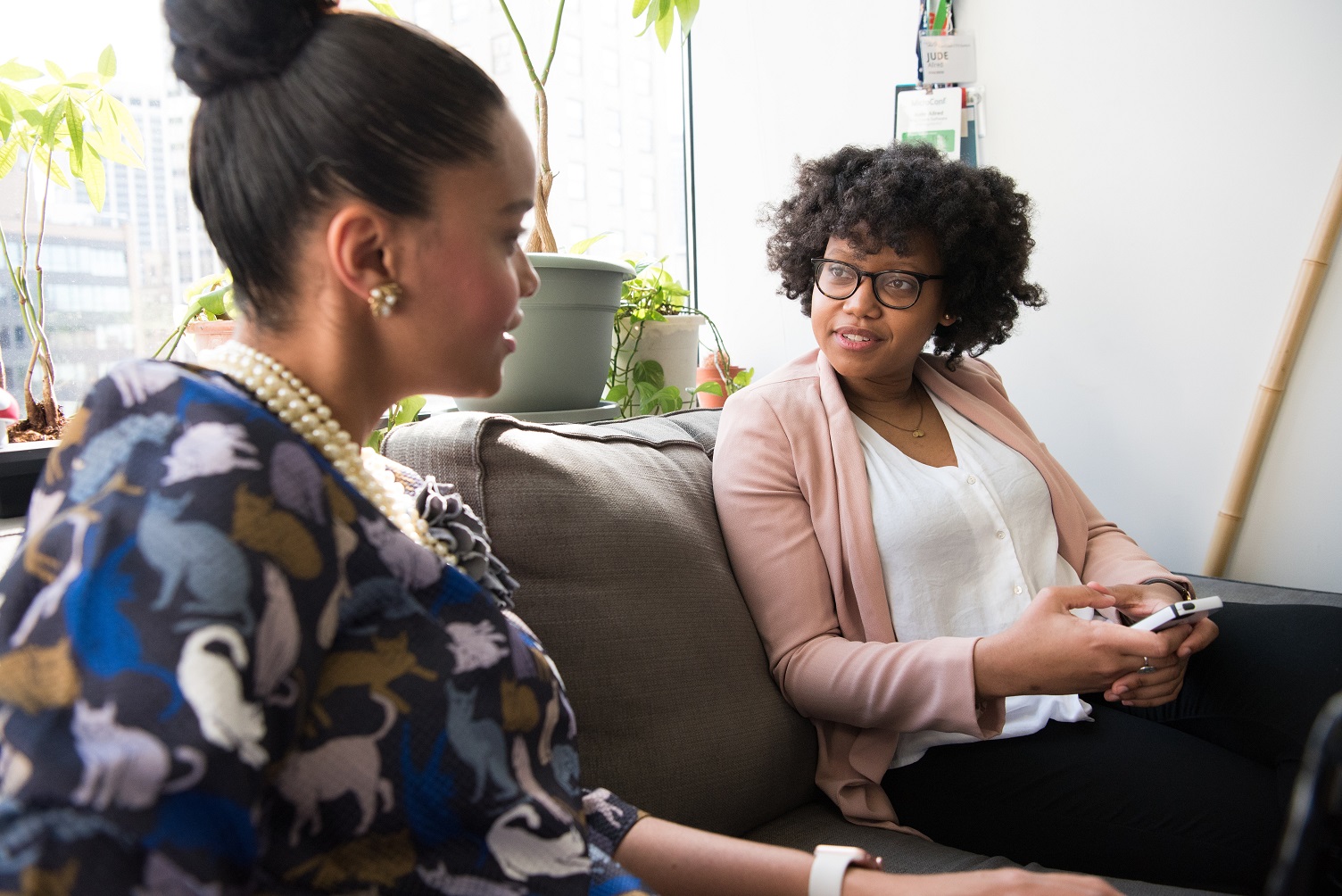 Whether written or spoken, communication is key in the workplace. The future of work is changing and communication skills vary from person to person. Because of this, things can get lost in translation or not communicated at all. Maybe you have identified your communication skills as one of your pain points. Or maybe you're struggling to find your personal communication style. Don't stress though, there's always room for improvement. Plus, you've already made the first step by recognizing you want to perfect this skill. Here are a few tips to help you in your journey to becoming a better communicator. 
The Three Cs 
Start with the basics and integrate them into your workday. They're easy to remember and serve as a strong foundation. So, let's dive right into the three Cs of effective communication.
Be Clear 
Be clear with your coworkers about your expectations and be sure to set them early. Whether you're setting boundaries or goals with your team, make sure they're laid out and understood. Doing this will prevent any confusion amongst the team and save you some stress. 
Be Concise 
Practice being more concise and purposeful with your communication, and make sure you're not giving an overload of information in one sitting. When you have more "filler" in what you say, people are less likely to receive your message in the way you intend and may walk away with some confusion. Filler is anything that seems excessive or irrelevant to your message. It might confuse or distract your recipient from the main point. So, cut the fluff and get straight to the point. 
A lengthy email can be hard to digest all at once or timely, let alone if these long messages are paragraphs of a Slack message or read off of the email app on your smartphone. The same goes for spoken communication. Would you rather sit in on a meeting and listen to one person speak on a single topic for seven minutes or an hour? You'd probably want them to get right to the point and only speak for a few minutes if that's all they really need. 
Be Consistent 
Consistent communication is arguably the most important practice for being an effective communicator. With more consistency, there will be more clarity and alignment. This point is especially important for leading a team. 
After you've established clear and concise expectations with your team, the key to meeting these expectations is follow-through. Consider setting up recurring team meetings to touch base on progress towards your goals. 
The Three Ps 
You have the three Cs for basic but effective communication. But, you can go above and beyond in communicating effectively with the three Ps. 
Prepare 
Always prepare yourself before communicating. No matter how you have to plan ahead of time, this step is important for delivering a clear message. Maybe you have some anxious energy before giving a report to a client. Try methods such as box breathing, or shift that energy into eagerness. On the other hand, you might be mentally ready to speak, but not generally
prepared. Preparedness varies from person to person. If you don't have a presentation coming up, you don't have to practice dialogue or have a list of notes to refer to. But, make sure you're ready to back up whatever it is you have to say. 
Pay Attention 
Pay attention to what people have to say. Active listening will benefit you much more instead of just hearing the words people are saying. Listening is crucial to communication. If you don't listen, you may be missing out on important information or notable topics. 
Sharpening your active listening skills can lead to more thoughtful communication. Try to limit distractions and interruptions when listening to someone. We get more alignment and better collaboration when we listen to each other. 
Praise Where Praise is Due 
Who doesn't like getting a compliment or recognition for their hard work? Acknowledge your coworkers' accomplishments, no matter how big or small they are. When you're practicing active listening, incorporate praise into your feedback. You can do that by acknowledging and thanking your coworkers for their outlook. People are more likely to respond positively to this and feel comfortable speaking up in the future. 
Learn From Others 
Communication is key no matter where you stand in the company. Look to other coworkers, business leaders, or companies for inspiration in your journey. On a corporate level, it's essential when trying to achieve a thriving company culture. 
It's no question that employees value transparent and consistent communication from their leadership. Many companies foster a safe environment for their employees to communicate honestly and effectively about their well-being and career goals. For example, employees have described the delivery company Gopuff as a place where meaningful and productive conversations with leadership were a common value. It's imperative for managers and other individuals responsible for their coworkers' growth to designate one-on-one time consistency throughout the year. It gives people the opportunity to communicate openly with their managers about the steps they should take to become who they want to be professionally. 
These employee-approved companies have something in common. They have an effective communication system in place for the whole company. It goes to show that meaningful communication– no matter the scale– is crucial to a better work culture.
Adapt to the Future of Work 
Some employees are returning to the office while others are going hybrid or remote. With an increase in remote work, most of our in-person meetings have changed to virtual. For some, this means a lot less social interaction at work. It also means more screen time and that can lead to laptop fatigue. On top of that, fatigue can lead to ineffective communication and collaboration. So, here are some tips to make sure remote work doesn't hinder you as an effective communicator. 
Shorten Meetings 
A simple solution to laptop fatigue is shorter or fewer meetings throughout the week. Doing this practices conciseness in your day-to-day workflow. Try to limit routine meetings, such as weekly team syncs or check-ins, to 15-30 minutes. If meeting weekly isn't productive, consider making them bi-weekly or monthly instead. Little changes like this can make a big difference in your team's week. 
Consider Audio-Only Meetings 
It's not likely that every single meeting will need face-to-face contact, so don't enforce it at all meetings. Allow all participants, including yourself, to go off-camera. This gives everyone the chance to reset and refresh. Having to be "on" 24/7 and having our reflection stare back at us on calls can lead to Zoom dysmorphia. This is a real thing and it can be mentally and emotionally exhausting for some. But, it can also be distracting us from the actual conversation at hand. 
Encourage Participation 
Some say it's better to stay silent than it is to speak. That's probably not the case, especially when you're trying to have a productive conversation. So, encourage quiet coworkers to speak up. You never know, they might have some great insight you wouldn't have thought of. 
Another way to encourage participation and engagement is to spruce up your meetings. Have a mix of media, speakers, and prompts for your participants to look forward to. For example, maybe add a team question at the beginning or end of meetings. You can make this something to initiate a work-related or even a fun, non-work-related conversation. 
Key Takeaways 
Here are some final things to keep in mind when learning to communicate more effectively. First, be confident in yourself, your abilities, and your opinions. You are exceptionally competent and capable!
While confidence is important, don't forget to be humble and open-minded. Don't be afraid of constructive criticism or conflict. Embrace it and find how those hard conversations can help you grow professionally. 
Make it a priority to integrate the three Cs and three Ps into your workday. They can make a great difference in your communication skills, whether you're remote or on-site. With practice and connecting with the people around you, progress will come in your journey to being an effective communicator!