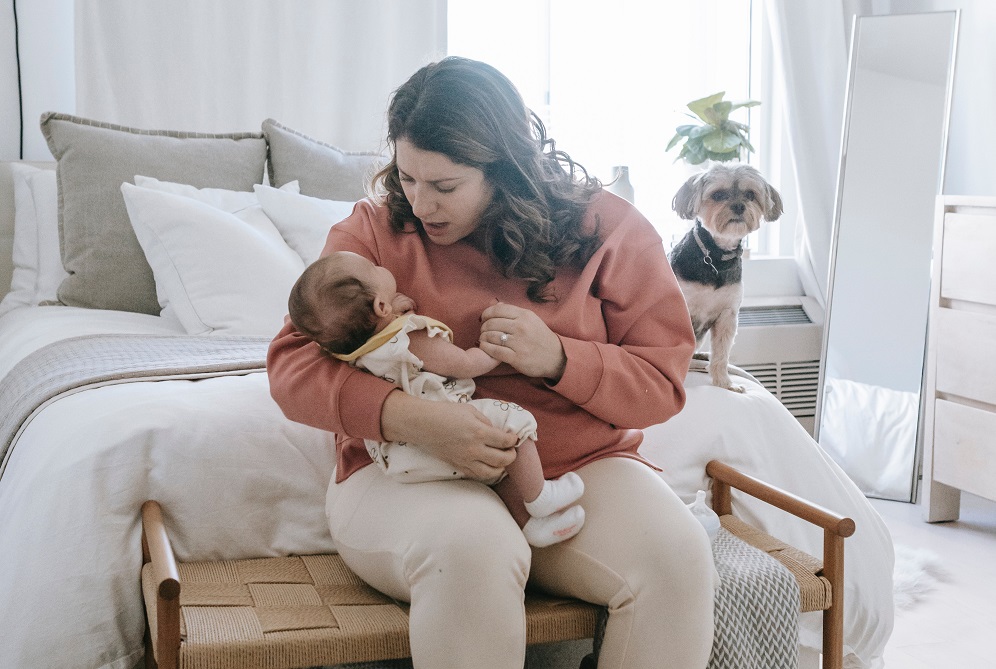 Suppose you have a new baby, congratulations! You're about to embark on one of the most fulfilling journeys of your life. However, it can also be one of the most expensive. Hence Saving Money as a New Working Mom is very important.
With all the gear, clothes, and toys that are needed for your little bundle of joy, you may feel like shelling out thousands upon thousands each year to keep up with everything. The good news is there are ways to save money as a new mom so that you can get by without breaking the bank.
Here are some tips for  For Saving Money as a New Working Mom when your bundle arrives: 
Use Cloth Diapers – They're Cheaper and More Eco-Friendly
This tip is completely counter to popular opinion, but the long-term savings can be phenomenal. Instead of paying hundreds of dollars on diapers (which you will have to do with a newborn), you spend around $50 for cloth diapers and detergent, then maybe another $15 – $20 for diaper rash cream.
If this were your only "baby expense", you would save $50 – $80, not including wipes. I personally think cloth diapers are the nicest, but if you do not want to deal with them, it's understandable, and disposable is definitely easier (and just as cheap).
If you are unsure, you could also consider a mix of cloth and disposable. Use your disposable when you are out and out for ease and the cloth when at home.
Buy in Bulk to Save Money
You can save a lot of money buying larger quantities. For example, instead of purchasing deodorant, toilet paper, or other household products by a single item, you could get a pack with three times as much from the same place. Here is an idea of some good bulk places:
Amazon Subscribe and Save (for household supplies)

Whole Foods (for most things)

Sam's Club (for things like diapers and household supplies)
You can definitely save money on diapers by buying in bulk, so worth exploring if you do go down the disposable route.
Get a Membership at the Grocery Store for Discounts on Food Items
This is just straight-up saving. The more food you buy from there, the better discount they give you on your overall purchase. This can drive savings even higher when buying in bulk.  For example, if I go to my local grocery store and spend $80 and get their card, that would lower my total cost by about $15.  
This is a huge saving on an already low-cost item, and I'm sure the same concept would work at Wal-Mart, Target, or any other grocer you shop at.
The key to this strategy is that you need to spend enough money for it to be worth your time. This means saving $10 – $20. If you have multiple children, the savings add up quickly.
Look into Free or Discounted Baby Products
If you are finding yourself spending a lot of money on your child (or children), look into free or cheaper alternatives. There will be free baby food and diapers in some areas, while in others, they may have classes that teach parenting skills. Depending on where you live, it can be worth your time to look more into this.
If you live in an urban area, you could likely find some sort of daycare or even someone willing to watch your baby for a few hours while you are at work.
If you are expecting, you should definitely use this guide on how to get a free Amazon welcome box.
Create a Budget and Stick to it
While it is easy to say, "Just make a budget!" most people do not know how to sit down and figure out how they spend their money.  
If you have a baby, this is something that many families will overlook. It may be a good idea to write down everything that comes in (like your paycheck) and everything that goes out (including toiletries).  This will give you a good idea of where your money is going and possible areas to reduce spending.
Using this information, you can then try to find ways to make your product cheaper or more efficient (like using cloth diapers instead of disposable ones). If you are already in debt, this may mean you will have to wait longer to get out of it.  Commit to doing this for 18 – 24 months and then decide if it is best not to continue with the budget or stick with it.
If nothing else, a budget can be good because it gives you a clear idea of how much money you are spending every month, which is a good way to see where you can either cut back or spend more effectively.  Also, it helps give you peace of mind when looking at your financial situation because you know exactly what money goes in and out for you every month.
Make your Own Baby Food Using Fresh Produce
This one is a little controversial because it's not always easy to make your own food.  If you like cooking, and especially if you are good at making your own recipes, this can be a great way to reduce the cost of feeding your baby.
Wipes are also expensive, and making them from baby washcloths or cotton balls can save you hundreds of dollars over a year. Keep in mind that if you have multiple children, there are ways to save even more money by buying in bulk or using cloth wipes instead.
Sell your used children's clothing or toys on Craigslist or eBay
If you are a parent who has items that were never used, sell them! With the birth of places like Facebook Marketplace selling online locally has never been easier.
Tips For Saving Money as a New Mom: Final thoughts
If you want to have a baby on a budget, it's possible with some simple changes. 
The most important thing is to get creative about how you can save money and where you might be able to cut out inessential spending. For example, instead of buying the latest trendy clothes or shoes for your kids every few weeks like many parents do, try shopping at resale shops first before investing more cash into new items. 
Or, if certain activities seem pricey but provide your family with fun experiences (like taking vacations), think about scaling back those habits. 
Hence, they fit within your new financial goals.
What other saving tips would help people who want to have babies on a budget? Do you have any other Tips For Saving Money as a New Working Mom?
Bio: Mary Elizabeth is the founder of MeMoreMoney.com, a Personal Finance website that helps people make their money work harder. She is a self-taught finance nerd and featured Personal Finance Expert in GO Banking Rates and Yahoo! Finance.