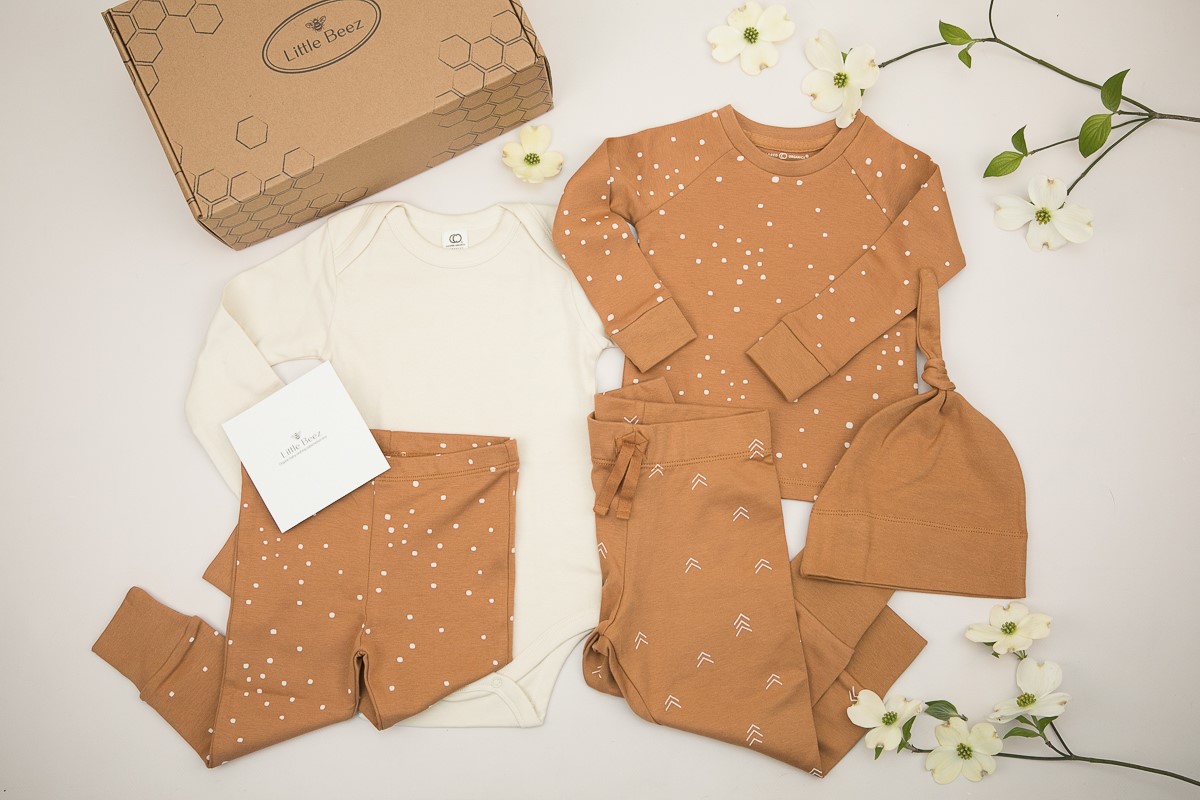 Climate change is a growing concern, more and more parents are going green for the sake of the planet. Hence parents are realizing the importance of buying organic and eco-friendly baby clothing.
For me, going green took on a whole new meaning when I became pregnant with my son. I became aware of all the toxins found in regular baby products and the impact they have on the environment.
One of the biggest steps I took in my green journey was to ensure the clothes I bought for my son were earth-friendly, but that turned out to be harder than I thought. Many baby clothing companies used greenwashing and it was difficult to find brands I could trust.
The countless hours I spent researching products inspired me to create Little Beez Box – a subscription box for organic and eco-friendly baby clothes. My goal was to make it easier for busy working moms like myself to have access to the best sustainable baby clothes on the market. I also started a private Facebook group about green parenting for like-minded moms who are trying to raise their kids in an eco-friendly way.
So, is it worth investing in organic and eco-friendly baby clothing?
Absolutely! Here's a list of reasons why you should make the switch.
Avoid toxic chemicals
Babies are like little sponges. They have a large surface-to-volume ratio (three times that of adults) which makes their skin much more delicate and sensitive.
Most baby clothes are made from regular cotton which is cultivated with harmful pesticides or synthetic fibers which are processed with toxic chemicals and dyes.
Unfortunately, these chemicals don't wash off easily and have been linked to skin irritation and even fatal conditions like cancer.
Organic and eco-friendly baby clothes are GOTS certified (Global Organic Textile Standard) which means that they've been tested to ensure they are completely free from chemicals and dyes.
Protect farmers
50% of all pesticides are used for cotton cultivation.  Frequent exposure to toxic pesticides threatens the health of farmers and causes short-term and long-term illnesses.
Organic cotton farming is done under strict international agricultural standards which restrict the use of pesticides to keep farmers and their families safe.
Protect the environment
There are so many ways synthetic baby clothing is harmful to the environment! It starts at the factory and continues all the way to you.
The manufacturing process requires high amounts of energy and releases greenhouses gases which account for 10% of all global emissions.
What's more, every time you wash a synthetic garment it releases microfibers into our waterways which end up in the ocean and the seafood we eat.
When you finally throw it away, it winds up in a landfill where it will take more than a lifetime to degrade.
Organic and eco-friendly baby clothing is made with the least environmental impact. When you buy them, you know that you're doing the greater good for the planet.
Get better quality
Synthetic baby clothing is made with cheap fabrics that are prone to shrinking and fading. Whereas organic and eco-friendly clothes are made of high-quality fibers that can stand the test of time.
They may cost more than regular clothing, but they're guaranteed to save your pockets in the long run. You can wash them again and again without them falling apart or looking shabby.
When your little one outgrows them, you can save them for your next baby. If you're planning on having another one or swapping them with other moms!
More comfort
Babies are prone to overheating, which can quickly turn into irritation if they're wearing synthetics. Organic and eco-friendly baby clothes are highly absorbent, soft, and breathable which will allow your baby to stay comfortable throughout the day.
Final thoughts
As moms, we want to do everything in our power to support the wellness of our children. By shopping for organic and eco-friendly baby clothes, you're not only giving your baby the ultimate comfort. But you're helping in the battle to save our planet.
Patrizia Bower is the CEO and founder of Little Beez Box. She's passionate about protecting the environment and raising her son in an earth-friendly way. Her business supports other small businesses that are run by mompreneurs. And for every box sold her company plants a tree. She also founded a Facebook group where like-minded women share tips product ideas, eco-friendly activities, and how to raise our kids to care about the environment. When she's not working on her business, she loves to spend time with her husband, their son Noah, and their dog Jax.