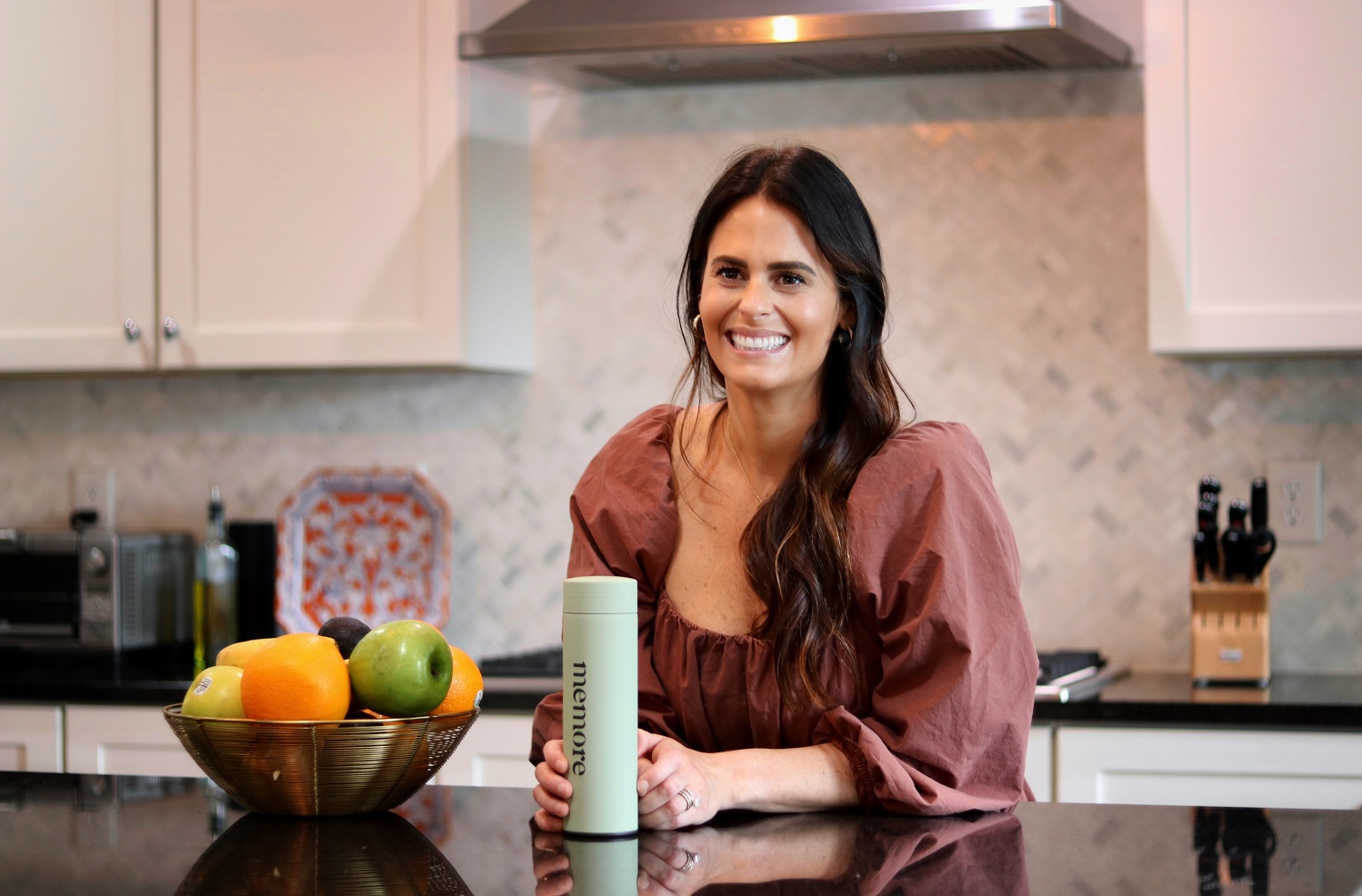 Balancing Mom Life, Mental Fatigue & Memore
By: Erika Lepczyk, co-founder & CEO of Memore
All mothers know that balancing mom life with work and personal matters is no easy feat. As a mom of two young girls (with a third baby on the way), I struggle every day. I'm a self-diagnosed recovering perfectionist. So I feel guilty when I'm not able to give 100% to everything all the time (which is impossible!).
I work a full-time job in e-commerce, which can be demanding. In addition to my 9 to 5, I've teamed up with my husband Brad and the NC Food Innovation Lab over the past couple of years to bring our brand, Memore [pronounced "memory," to life.
Memore
Memore is a project motivated by my family history of dementia. After realizing that most products on the market promote quick fixes and lack credibility, I wanted to create something. Something that was science-backed and focused on improving cognitive health long-term. We were thrilled to bring our product — a versatile, functional whole food blend — to market in May.
For days when I can't seem to keep my calendars (yes, calendars with an S!) straight, when I'm drowning in emails, or when a personal matter gets in the way, I take a step back. And remember why I started Memore in the first place. Health and nutrition have always been important to me personally; my husband and I follow the Mediterranean Diet and have incorporated healthy eating and living into our children's lifestyles as well.
Most people are completely unaware that less than 2% of all dementia cases are attributed to heredity factors. And what we put in our bodies has a huge impact on how our brains function.
Delivers highly absorbable whole food
We designed Memore to deliver highly absorbable whole foods (like blueberry, spinach, sweet potato & beet) that meet your body's diverse nutritional needs. So when your diet isn't checking all the boxes (which is likely often, if you're a working parent!), we're here to help fill your gaps. And provide the natural fuel your brain and body need to perform their best.
The product can be consumed in a variety of ways. Like mixed into a glass of water or a smoothie, sprinkled on top of yogurt/oatmeal, or used in various recipes. Also, my favorite is a simple salad dressing recipe that Kristin Kirkpatrick, RD, shared with us recently. So, we wanted Memore to be simple to incorporate into any lifestyle — our 2-year-old absolutely loves the Blueberry & Lemon flavor mixed into a glass of water!
Few pieces of advice
For any other mamas who may be in the midst of working full-time, launching a start-up. Or simply struggling with the everyday mental fatigue of being a mom, I wanted to share a few pieces of advice:
Tell everyone early

– I believe I originally heard this on a podcast interview with the founders of Method. When you start a business, you are putting everything on the line. That's hard for many people, your friends included, to grasp. Some might even be a little judgey! But by telling everyone, you are subjecting yourself to their scrutiny. Which in turn, makes you even more motivated to succeed.

Trust the process

– This was tremendous advice given to me by our branding agency — I've applied it every step of the way. Even though I am not a professional brander, I found myself wanting to control the entire branding process. They asked me to trust them and the process, and the result was incredible. It's a great lesson for any small business owner or early-stage start-up because you can't do everything yourself. Sometimes you need to let go and let the experts do what they do best.

Set realistic expectations for yourself

– As an avid podcast listener, I have listened to countless stories about founders bootstrapping a business and experiencing overnight success. I think it's important to understand that these examples are incredibly rare and not realistic for 99.99% of start-ups. That doesn't mean you shouldn't strive to be an overnight success. Just don't let yourself get discouraged or give up if that doesn't happen.

Set aside "device-free" time

– With constant stimulation from our phones, computers, and TVs, it's important to set aside family time without those distractions. The text messages and emails will still be there later!
In short, being a mom and an entrepreneur isn't a walk in the park. But for me and my family, I think it's worth it.
About the Author:
Erika Lepczyk is the CEO & co-founder of Memore, an innovative direct-to-consumer brand dedicated to raising awareness of the preventative measures people can take to sustain long-term cognitive health. Memore offers versatile functional blends that help create healthier minds with whole food nutrition.
As a respected figure in the e-commerce industry, Erika took her 15+ years of experience working with DTC brands. In order to fill a white space in the market. Her goal was to create a long-term, science-backed cognitive health product that effectively catered to a wide range of consumers. In the midst of the pandemic, Erika transformed her guest room into a lab and spent countless hours conducting experiments until she landed on the final formula for Memore, which came to life with help from her husband Brad, the North Carolina Food Innovation Lab, and a team of prestigious medical experts.
Connect with her on LinkedIn & keep up with Memore on Instagram & Facebook!