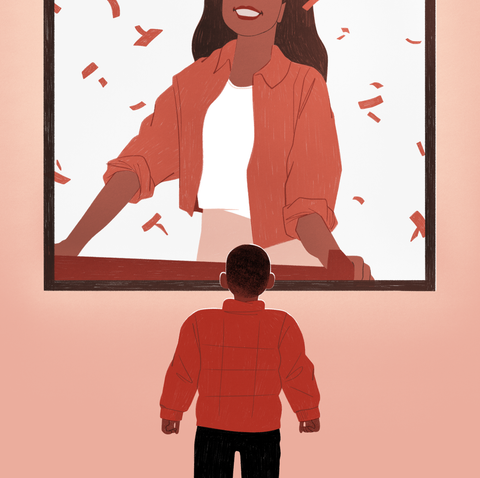 He may not be a princess, but West wants to dream big, too. He wants to make a positive impact on the world by loving others. And like young girls, he too deserves to see his potential reflected in media.
Feminism has established itself as a mainstream movement and a commonly known ideal in the public consciousness. Empowerment and liberation of women through feminist
thinking,
actions, and
hashtags
However, as it stands mainstream feminism has failed to address a very important issue. We've committed so strongly to teaching girls they're equal to boys. But we've forgotten to extend the message to boys themselves in a healthy, inclusive way. In her article for Harper's Bazaar.
Christine Michel Carter explores how feminism has condemned toxic masculinity. And how it paved the way for a new mindset for men and boys to adopt. But failed to provide this new mindset. Gender equality is still far off when young boys are constantly shown imagery of girls doing great things.
Studies from the past two decades confirm that our focus on girls can leave boys behind in regards to education and well-being. The truth is, boys actually need more emotional support than girls.
But media and society fail to provide positive images of men showing strength in vulnerability. Boys need an alternative to toxic masculinity and patriarchal ways of thinking; a new men's movement to pick up the slack where mainstream feminism has left off.
Read the rest of Christine's article about the lack of positive gender-inclusive messages here.
Featured in The New York Times, Christine Michel Carter is the #1 global voice for working moms. Called "the mom of mom influencers," "the exec inspiring millennial moms", a "mom on the move" and "the voice of millennial moms", Christine clarifies misconceptions about these consumers for brands and serves as an amplifier of their personal truths. This includes everything from delivering consumer insights and brand marketing content to helping HR and diversity teams attract and retain these hardworking professionals. She is the best-selling author of "Can Mommy Go To Work" and contributor to several global digital publications, including Forbes, TIME, Harper's BAZAAR, and Parents. She has supported the awareness of government initiatives such as Senator Kamala Harris' Maternal Care Access and Reducing Emergencies (CARE) Act and Black Maternal Health Week and created Mompreneur and Me, the first national mommy and my professional development networking event.