About the Writer: "The Mom of Mom Influencers"
---
Instant Download: FREE Guide: 10 Myths About Working Moms
---
Featured in The New York Times and The Washington Post, Christine Michel Carter is the #1 global voice for working moms. She has been called a "working mom who's changing the world," "the mom of mom influencers," "the exec inspiring millennial moms," and "the voice of millennial moms."
Christine is also the associate editor for ModernMom and contributes to ForbesWomen as a senior contributor. Christine clarifies misconceptions about working mom consumers for brands and serves as an amplifier of their personal truths. From delivering consumer insights and brand marketing content to helping HR and diversity teams attract and retain these hardworking professionals, Christine works with advertising agencies, research firms and companies to ensure they're at the forefront of the minds of female consumers.
A down-to-Earth speaker and media analyst, Christine has spoken at Create & Cultivate, Mom 2.0, BlogHer and a number of other conferences. Her insights have been included by other authors in their books. Christine's own bestselling children's book Can Mommy Go To Work? was ranked as an "empowering book" and a "life changing book to guide feminist parenting." Her book MOM AF is a sister circle in a book, inspired both by Carter's life and her published articles.
She has interviewed a number of celebrity moms, including Tamera Mowry, Kristin Cavallari, and La La Anthony and also partnered with brands such as 23andMe, AARP, ALDI, Brahmin, Chicco, Goodwill, Orgain, Hungryroot, OtterBox, Suja Juice and Therapedic as a social media influencer. She has also leveraged her verified digital presence and mom network to bring awareness to the Phenomenal Woman Action Campaign, #YearoftheMother, and Black Maternal Health Week. Christine has also supported Senator Kamala Harris, the Department of Labor and the U.S. Chamber of Commerce on maternal and child care related issues.
The creator of Mompreneur and Me®, Christine has introduced the first national free mommy and me professional development networking event that has garnered the attention of Adweek and Entrepreneur as well as global brands like McDonald's and University of Phoenix.
(Views expressed are her own and do not reflect any entity with which she is affiliated.)
Head over to Press to see everywhere Christine has been featured.
---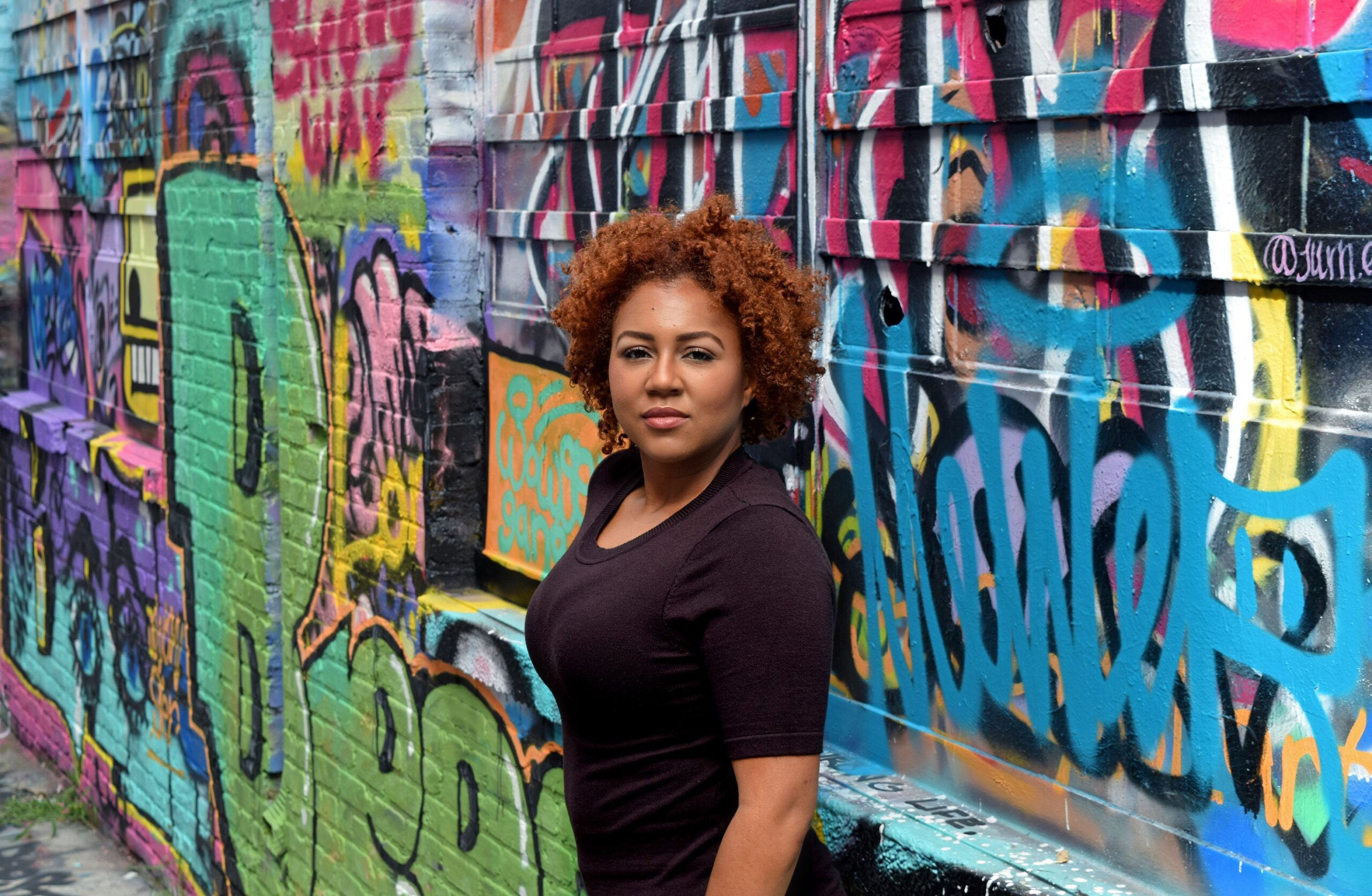 The following is part of a bigger presentation Christine Michel Carter delivers at conferences and in the media on black consumers called "Creating Content for a $1.5 Trillion Audience." For more information or to have Christine deliver this presentation, please visit her Speaking page. For testimonials about her work with brands, visit her Testimonials page.
Why do Black women matter for brands?
It's critical for companies (even those run by women) to understand women of color influence up. Winning with us is more critical than ever before, because our trends and spending behavior have the ability to influence other generations and races at an accelerated, digital speed.
We also parent politically. We are ambitious and trying to change the world for our children, but we can make or break a brand with our vocal, outgoing, influential and involved nature. It's important for women entrepreneurs not to ignore the realities of today's divided, racially charged America.
---
Other Articles:
Sugaberry: New Lifestyle Brand Created By And For Modern Moms Of Color Launches
Spirituality, Health And Beauty In A Bottle: Black Women Find Solace In Consumer Products
Despite The Odds, Educated Single Black Mothers Are Dominating Corporate America
---
Lastly, we're social mamas. Women of color spend a huge amount of time on social networking sites, more so than other races, and it's because we engage with brands and social causes. Women-run/owned businesses' digital content need to captivate us as an audience, and we will gladly serve as their patrons.
Buying Power of African American or Black Consumers 2019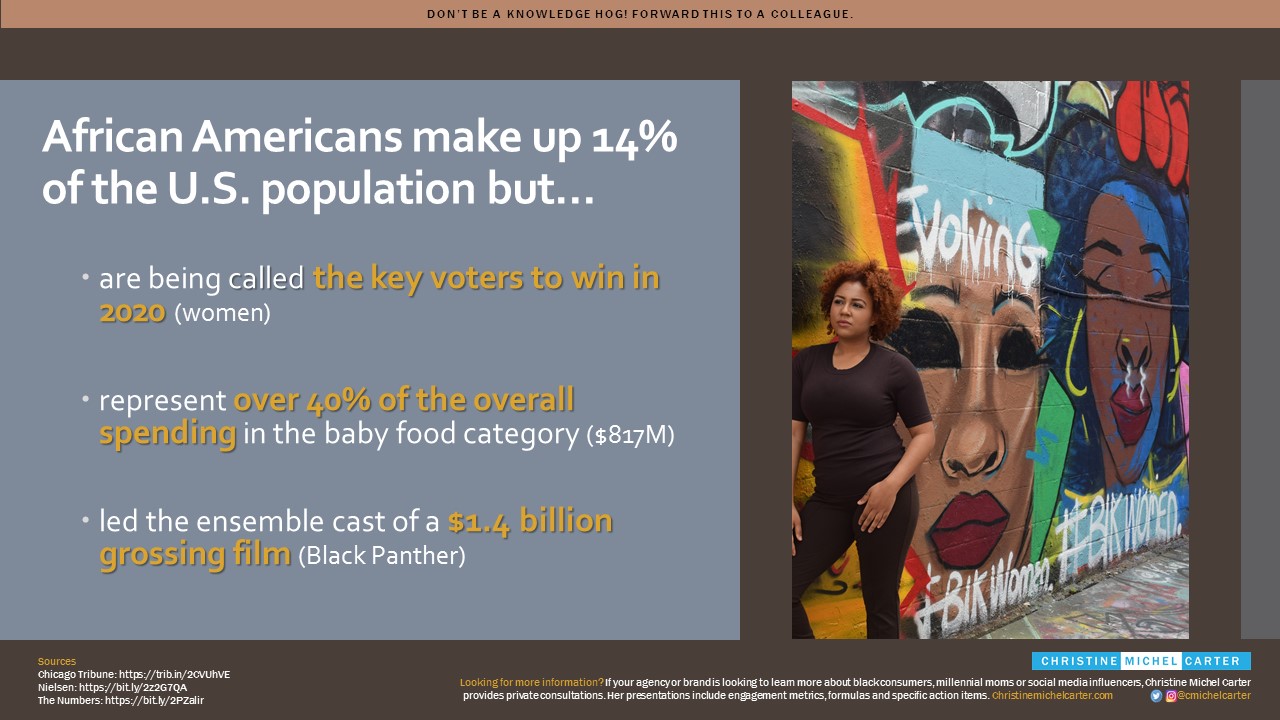 African Americans make up 14% of the U.S. population but have an undeniable buying power and influence on our nation's economy. According to Nielsen, "black buying power will rise to $1.54 trillion driven by gains in population, income and education. Working-parent lifestyles have led Black people to over-index against the total U.S. population for dollars per buyer spent in a majority of categories."