The following is part of a bigger presentation Christine Michel Carter delivers on black consumers. For more information, please visit her Speaking page.
Why do Black women matter for brands?
It's critical for companies (even those run by women) to understand women of color influence up. Winning with us is more critical than ever before, because our trends and spending behavior have the ability to influence other generations and races at an accelerated, digital speed.
We also parent politically. We are ambitious and trying to change the world for our children, but we can make or break a brand with our vocal, outgoing, influential and involved nature. It's important for women entrepreneurs not to ignore the realities of today's divided, racially charged America.
Lastly, we're social mamas. Women of color spend a huge amount of time on social networking sites, more so than other races, and it's because we engage with brands and social causes. Women-run/owned businesses' digital content need to captivate us as an audience, and we will gladly serve as their patrons.
Buying Power of African American or Black Consumers 2019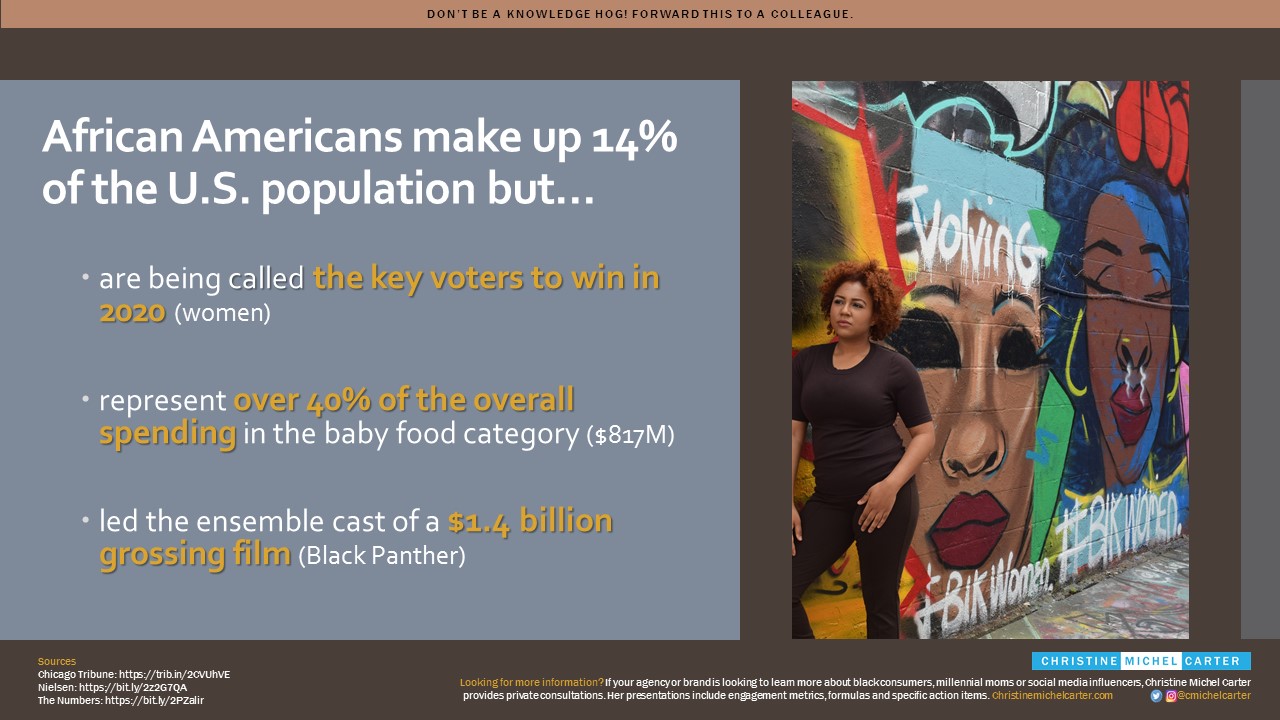 African Americans make up 14% of the U.S. population but have an undeniable buying power and influence on our nation's economy. According to Nielsen, "black buying power will rise to $1.54 trillion driven by gains in population, income and education. Working-parent lifestyles have led Black people to over-index against the total U.S. population for dollars per buyer spent in a majority of categories."
Featured in The New York Times, Christine Michel Carter is the #1 global voice for working moms. Called "the mom of mom influencers," "the exec inspiring millennial moms", a "mom on the move" and "the voice of millennial moms", Christine clarifies misconceptions about these consumers for brands and serves as an amplifier of their personal truths. This includes everything from delivering consumer insights and brand marketing content to helping HR and diversity teams attract and retain these hardworking professionals. She is the best-selling author of "Can Mommy Go To Work" and contributor to several global digital publications, including Forbes, TIME, Harper's BAZAAR and Parents. She has supported the awareness of government initiatives such as Senator Kamala Harris' Maternal Care Access and Reducing Emergencies (CARE) Act and Black Maternal Health Week and created Mompreneur and Me, the first national mommy and me professional development networking event.