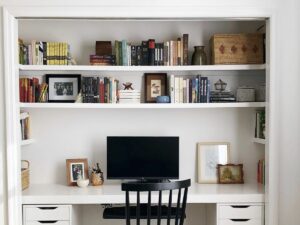 Cloffice: At Home Closet Office Design and Decor. Written by Jacob Pomeroy
With the COVID-19 pandemic hopefully in its waning months, there can be a little denial that its effects will alter the professional landscape for the foreseeable future.  Working remotely has been seen as a viable alternative to in-office work for some time, but with the pandemic forcing it as a necessity for those fortunate enough to have had it as an option, it now seems that the mechanics of the workplace have begun to permanently shift and that a new dawn of remote office work is now on the horizon.
With this change comes a new challenge – namely, how to set up a viable office space in one's already crowded living space?  One of the obvious benefits of working in a cubicle, or any assigned working area, is that the environment is conducive specifically to work, and is tooled to limit distraction, promote productivity, and be advantageous to all the necessities of the job.  One's home generally serves as the antithesis to these traits, harboring a multitude of distractions and generally promoting difficulty in psychologically separating the workspace from living space and leisure space.  The challenge then is to cultivate an at-home office area, and for the spatially challenged (i.e. many of us) comes to an especially crafty solution – the closet office or "cloffice."
So, what is a cloffice?
A cloffice is a portmanteau of the word's "closet" and "office."  I know how clever!  Despite the groans the term may elicit, however, the cloffice works wonders as a practical solution to the contemporary challenge of remote work, and better yet, offers a tremendous opportunity in flexing one's interior design muscles.
Listed below are a handful of artful ideas on how to stylishly transform your closet into your new cloffice:
Food52 recommends dressing your space up with wallpaper, helping to make it stand out from your surrounding space, and helping minimize the aesthetic remnants of the closet office.  In addition, they suggest choosing a bold and intricate design, allowing the space to pop, and combined with the relatively small coverage, not be too overwhelming.
Food52 also recommends saving desk space by mounting your monitor(s) using mounts.  Ultimately, any step taken to save space is advisable, and removing your monitor(s) from your desk allows for plenty of added space, allowing you to take a thick stack of paperwork and spread it out to your heart's content.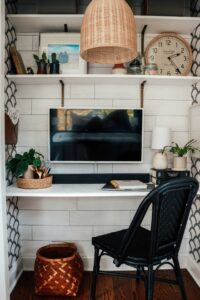 My Custom Closet recommends multi-shaped shelves, allowing for both a unique appearance and practical application.  After all, an organized workspace breeds efficiency and a creative design helps foster imaginative thinking in this closet office.
 My Custom Closet also recommends utilizing your closet's vertical space, making use of all of your closet's limited, but precious real estate.
 Ultimately, the design of your cloffice is left entirely up to your stylistic discretion, but with these recommendations, hopefully, your new working space can be fine-tuned to meet the best standards of spatial economy, whilst still retaining your unique aesthetic.  Keep on and cloffice on!
More on Working From Home
How Working Moms Can Get Started Blogging From Home Resources for Mothers Doing Remote Work 3 Things No One Tells You About Working From Home How to Navigate Freelancing While Raising A Family How to Entertain Your Kids While Working From Home