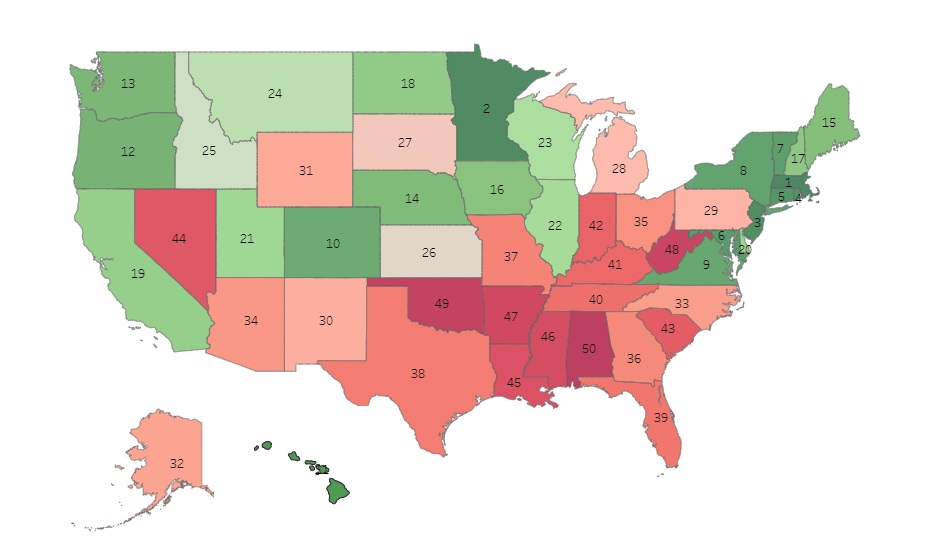 To shed light on women's issues, Wise Voter ventures to discover the best states for single moms, specifically how well each U.S. state serves its women in six life factors — Employment & Earnings, Work & Family, Health & Well-Being, Safety, Politics, and Education.
According to Pew Research Center, the U.S. is the country that has the highest rate of children living in single-parent homes. Given that more than 11 million Americans, mostly women, raise their kids alone, Wise Voter has been looking at how much support these women are getting from their states all over the U.S.
To understand working moms at a state level, they conducted a study that looks into the state-by-state policy readiness to support women throughout every early stage of motherhood, from pregnancy to birth, to the difficulties they might face combining their work and family life. Wise Voter set out to compare the best states for single moms on 9 key metrics for Work and Family such as Paid Leave Legislation, Workplace Pregnancy Discrimination Ban, Pregnancy Accommodation, Workplace Breastfeeding Rights, Child Care Tax Credits, Child Care Costs, Child Care Workers, Child Care for Working Moms and Investment in Child Care.
Read More:
2022 Best States for Working Moms… and the Worst Too
Working Moms: The 8 Specific Ways New Infant & Toddler Moms Need Support from Their Employer
How Working Moms Can Improve Their Financial Situation Post Pandemic
Best States for Single Moms Overall: Northeast
The states from the New England area come out in the top 10 as the best states for single moms that are working. New Jersey #1, Rhode Island #2, Massachusetts #4, New York #5, and Connecticut #10.
Read More:
How Women Can Form A Diverse Support System In The Workplace
Tips on How Working Moms Can Save for Retirement While Supporting a Family
Best States for Single Moms with Child Care: Midwest
When Wise Voter delved into child care tax credits, costs, workers, care, and investment for working moms, the best states for single moms were midwestern states. They came out on top, with Iowa #1, Nebraska #2, North Dakota #4, Kansas #5, and South Dakota at #9.
Read More:
5 Tips to Prevent Burnout for Working Moms
How Working Moms Can Find Weekend And 24-Hour Childcare
Losing Childcare Led to Losing Employment
Best States for Single Moms with Support: West
While the northeastern region leads the nation for working moms to thrive, some of the western states have also come out on top in the overall category for work and family such as Colorado #3, Oregon #6, California #7 and Washington #9.
---
Methodology: To rank the best and worst states for women in the U.S., Wise Voter compared the 50 states across six key dimensions:
Employment & Earnings
Work & Family
Health & Well-Being
Safety
Politics
Education
Wise Voter gauged the six dimensions using 59 relevant metrics listed below with their corresponding weight. Each metric was graded on a 100-point scale, with a score of 100 being the max.  Wise Voter also ruled each state's weighted average across all metrics to calculate its overall score and employed the resulting scores to rank-order their sample. For further methodology of each sub-category, you can visit the end section of the Wise Voter report.
Wise Voter was founded by Ben Kaplan in the aftermath of three seismic events in the year 2020: The global pandemic, the economic shutdown, and widespread political unrest due to socio-cultural movements like #blacklivesmatter. Based on the leadership principles of George Washington, Wise Voter provides citizens, voters, and elected officials with the information, insights, and tools that amplify democracy in the modern age. As a student of George Washington's leadership principles, Kaplan wondered whether Washington's model of healthy debate, the elevation of the greater good, and citizen empowerment could help solve some of the most difficult challenges of modern times.